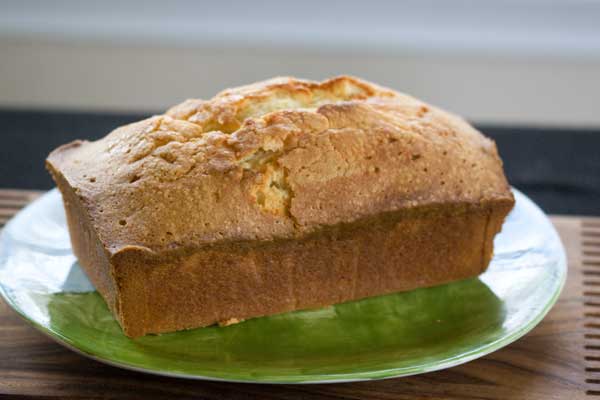 Perfect Cream Cheese Pound Cake
Author: Cookie Madness
Prep time: 20 mins
Cook time: 45 mins
Total time: 1 hour 5 mins
Dense but light textured, tight crumb pound cake made with cream cheese
3 large eggs, at room temperature
1 3/4 teaspoons of vanilla extract and 1/4 teaspoon almond extract
1 1/2 sticks (6 oz) unsalted butter at cool room temperature
4 oz cream cheese, cool room temperature
1 1/2 cups (10.5 oz) granulated or superfine granulated sugar**
1/2 scant teaspoon salt, omit if using salted butter
1 1/2 cups plus 2 tablespoons cake flour (6.5 oz) or White Lily flour
Spray an 8 ½ by 4 ½ inch loaf pan with flour-added baking spray. Line pan with parchment paper.
In a liquid measuring cup, whisk the eggs and extracts and set aside.
In the bowl of a stand mixer with the whisk attached, beat the butter and cream cheese for about five minutes or until very light and creamy. Scrape bowl occasionally. With the mixer running, add the sugar very slowly – this should take another 5 minutes. Add the salt and scrape bowl again.
Reduce mixer speed slightly and very gradually add the egg/extract mixture a few spoonfuls at a time. This process should take about 2 minutes. Once the eggs are added, continue beating for one minute.
Remove bowl from stand mixer and sift the flour about 1/2 cup at a time into the batter, stirring with a heavy duty scraper until well blended. Make sure all the flour is incorporated by scraping batter up from the bottom.
Put the batter in the pan, spread it evenly and bake for about 85 minutes at 325 F. Cake should form a dome and crack. Let it cool for about 20 to 30 minutes in the pan, then carefully loosen and remove from pan by inverting, peeling off parchment, and inverting again.
Let the cake cool completely before serving.
I used superfine sugar which I'd made by putting granulated sugar in a food processor.
Recipe by
Cookie Madness
at https://www.cookiemadness.net/2013/02/perfect-cream-cheese-pound-cake/