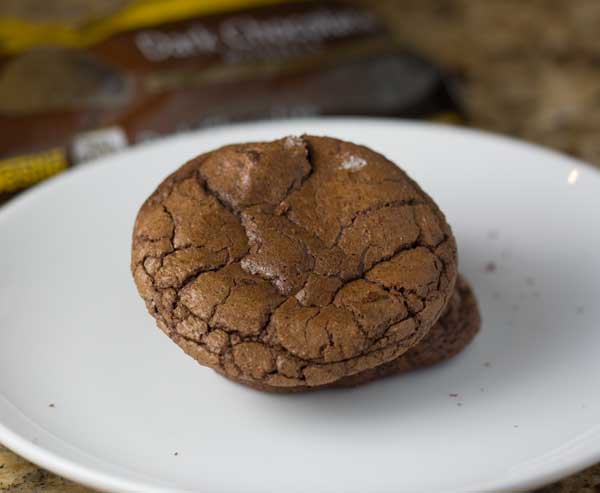 Self-Rising Flour Double Chocolate Chip Cookies
Author: Cookie Madness
Prep time: 20 mins
Cook time: 10 mins
Total time: 30 mins
Self-Rising Flour Double Chocolate Chip Cookies
1 1/3 cups (224 grams) dark chocolate chips plus 2/3 cup for adding later
1/4 cup (20 grams) unsweetened natural or Dutch cocoa powder
1/2 teaspoon espresso powder (optional)
4 tablespoons (60 grams) unsalted or salted butter, softened
Tiny pinch of salt (omit if using salted butter)
3/4 cup (150 grams) packed light brown sugar
1/4 cup (50 grams) granulated sugar
2 large eggs, lightly beaten with a fork in a separate bowl
1 1/2 teaspoon vanilla extract
1 cup (140 grams) self-rising White Lily flour ( I go by the weight, so weigh flour for best results)
Melt 1 1/3 cups of the dark chocolate chips (8 oz) in a microwave-safe bowl at 50% power, stirring every 30 seconds until fully melted. Stir the cocoa powder and espresso powder into the melted chocolate and let cool slightly.
In a mixing bowl using an electric mixer, beat the butter, salt (if using) and both sugars until creamy. With mixer on medium, add eggs 1 tablespoon at a time until incorporated, then beat for 1 minute. Beat in vanilla and melted chocolate mixture, scraping sides of bowl often. When chocolate is incorporated, stir in the flour. Make sure the dough is completely cool, then stir in the remaining 2/3 cup chocolate chips. Cover mixture and let sit until thickened.
Preheat oven to 350 degrees F. Line 2 baking sheets with parchment paper or Silpats. Using a tablespoon measure, scoop up heaping tablespoons of dough and shape into balls. Arrange about 2 inches apart (6 to a sheet) on baking sheets. Press tops down slightly.
Bake one sheet at a time on center rack for 10 minutes or just until cookies appear set. Let the cookies cool on baking sheets about 5 minutes or until set.
For this batch I used Nestle brand Dark Chocolate Chips, which are a little larger than regular chocolate chips. I think Guittard Extra Dark or Ghirardelli Bittersweet chips would also work well. You could also combine the chips with some chopped dark or bittersweet chocolate, but the cookies *may* lose a little of their thickness.

MORE NOTES
I've also made these with Ghirardelli Bittersweet chips. The dough is very thick and solid, but you should still be able to break it into chunks and shape it into balls. The bittersweet chips (which are 63%) will give you a less sweet cookie. For a sweeter cookie, stick with dark chocolate or semisweet chips.
Recipe by
Cookie Madness
at https://www.cookiemadness.net/2013/03/self-rising-white-lily-flour-double-chocolate-chip-cookies/