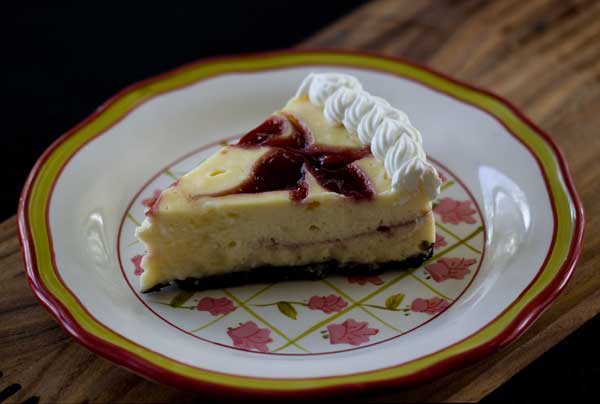 White Chocolate Raspberry Cheesecake
Author: Cookie Madness
Prep time: 10 mins
Cook time: 85 mins
Total time: 1 hour 35 mins
White Chocolate Raspberry Cheesecake
CRUST:
2 cups crushed Oreos (about 24)
1 tablespoon sugar, optional
4 tablespoons butter, melted
FILLING:
3 packages (8 ounces each) cream cheese, softened
2/3 scant cup sugar
1/3 cup sour cream, at room temperature
3 large eggs, lightly beaten and at room temperature
3 tablespoons all-purpose flour
1 teaspoon vanilla extract
1 1/2 cups white chips (10 oz total)
1/2 cup raspberry preserves, softened in microwave**
Sweetened whipped cream for garnishing
Preheat the oven to 325 degrees F. Spray a 9 inch round springform pan with cooking spray.
In a mixing bowl or in the food processor, combine the cookie crumbs, sugar and butter. Press onto the bottom of the pan. Set the pan on a large sheet of foil and bring foil up and slightly over the sides. Repeat with another sheet of foil to make the pan leak-proof. You'll be putting it in water.
In a large bowl, beat cream cheese and sugar until smooth. Beat in the sour cream. Using lowest speed of mixer, gradually add eggs beating just until combined. Stir in flour and vanilla, then fold in the chips. Pour the batter over the crust.
Drop spoonfuls of raspberry preserves over the top and run a knife through to make swirls.
Place in a large roasting pan and add hot water to the roasting pan so that it comes up 1 inch up the sides of the springform pan.
Bake at 325° for 80-85 minutes or until center is just set. Cool on a wire rack for 10 minutes. Carefully run a knife around edge of pan to loosen; cool 1 hour longer. Cover and refrigerate overnight. Remove sides of pan and garnish with whipped cream.
The crust is delicious, but I think it would be fine without that added tablespoon of sugar.

If you can't find seedless preserves (my store always runs out), soften the preserves and push them through a sieve. You can also had an extra layer of preserves by filling the batter halfway, dotting with preserves, and topping with more batter.
Recipe by
Cookie Madness
at https://www.cookiemadness.net/2013/03/white-chocolate-raspberry-cheesecake/