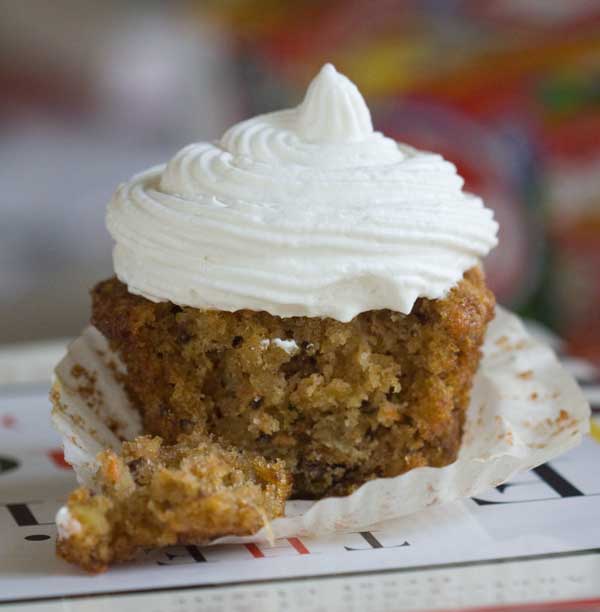 Rabbit's Carrot Cake Cupcakes
Author: Cookie Madness
Prep time: 10 mins
Cook time: 25 mins
Total time: 35 mins
Carrot cupcake recipe adapted from Fanny Farmer's "Rabbit's Carrot Cake"
1 1/2 cups grated carrots (6 ounces)
2 tablespoons lemon juice
1/2 cups canned crushed pineapple, drained dry
1 1/2 cups (6.8 oz) all-purpose flour
1 cup granulated sugar
3 tablespoons tightly packed dark brown sugar**
1 teaspoon baking powder
1 teaspoon baking soda
1 teaspoon salt
2 1/2 teaspoons cinnamon
6 tablespoons unsatled butter, melted
6 tablespoons grapeseed or canola oil
3 large eggs
1 cup golden raisins (or a mix of golden and brown)
1 cup walnuts, toasted and chopped after measuring
Preheat the oven to 350 degrees F. Line 22 to 24 cupcake cups or grease and flour two 8 1/2 by 4 1/2 inch loaf pans.
In a small bowl, mix carrots, lemon juice, and pineapple. Set aside.
In the bowl of your food processor (or just use a bowl), combine flour, both sugars, baking powder, baking soda, salt and cinnamon. Pulse to mix, then add butter, oil, and eggs, one by one until mixed. Add carrot mixture and pulse until mixed, then add the raisins and walnuts and pulse lightly just to mix or just stir with a rubber spatula.
Divide evenly among the cupcake cups, filling a little over 3/4 cup full, or divide among two loaf pans. Bake cupcakes for about 25 minutes or loaves for about 45 minutes.
If you don't want to use brown sugar, you may use 1/4 cup granulated sugar in place of the 3 tablespoons of packed dark brown. If using light brown sugar, use 4 tablespoons instead of 3.
Recipe by
Cookie Madness
at https://www.cookiemadness.net/2013/04/carrot-cupcakes-rabbits/