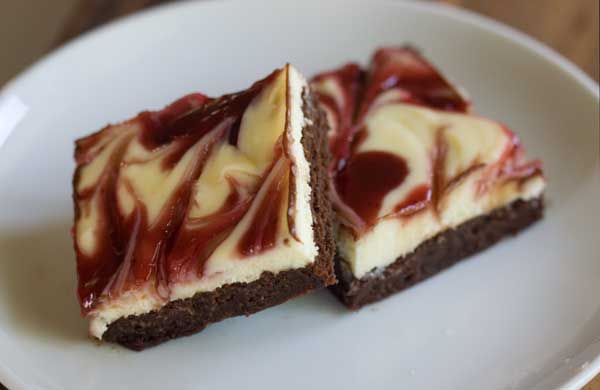 White Chocolate Raspberry Cheesecake Brownies
Author: Cookie Madness
Prep time: 15 mins
Cook time: 50 mins
Total time: 1 hour 5 mins
Chocolate fudge brownies topped with white chocolate raspberry cheesecake
4 ounces (1 stick) unsalted butter, cut into chunks
1 cup (6 oz) dark or bittersweet chocolate chips**
2 ounces unsweetened chocolate, chopped
1/2 cup light brown sugar
3/4 cup granulated sugar
1 teaspoon vanilla extract
1/2 scant teaspoon salt
3 large eggs
1/2 cup cake flour
Topping
2/3 cups (4 oz) white chocolate chips
12 ounces cream cheese, softened
6 tablespoons granulated sugar
1 teaspoon vanilla extract
1 egg plus 2 tablespoons lightly beaten egg
10 teaspoons of softened seedless or strained raspberry preserves
Do not preheat the oven yet. Line a 9 inch square metal pan with parchment paper or nonstick foil.
In a large, microwave-safe mixing bowl, combine the butter and both chocolates. Microwave on high for 30 seconds. Stir well. Continue microwaving at 50% power and stirring every 30 seconds until mixture is melted and smooth.
Add both sugars, salt and vanilla to the mixture and stir well. Stir in the eggs, one by one. Add the cake flour and stir until blended. Do not beat.
Spread mixture across the bottom of the pan and put in the freezer for 1 hour.
Preheat oven to 325 degrees F.
Melt the white chips in a small microwave-safe bowl using 50% of power and stirring every 30 seconds. Alternatively, you can melt them in a bowl set over but not touching simmering water. Let them cool slightly.
In a large mixing bowl, beat the cream cheese and sugar until well mixed, scraping sides of bowl. Beat in vanilla and melted white chips. Add the eggs and stir just until mixed.
Remove the brownie batter from freezer (it should be firm and very cold, but not a solid ice brick) and spread the cheesecake mixture over the top.
Drop about 10 teaspoons of raspberry preserves over cheesecake mixture and drag a knife through to make swirls.
Bake on center rack at 325F for about 45 to 50 minutes. The cheesecake should appear set around the edges, but jiggly in the center. It will set up and as cools, so don't be tempted to overbake.
Let the brownies cool completely, then transfer to the refrigerator and chill overnight.
Grasp parchment paper, lift from pan and cut the brownies into squares.
Make sure to use the darkest chocolate chips you can find. I used Ghirardelli semisweet, and while the brownies were great, I think an even darker, less sweet chocolate chip would make them better.

Also, if you want to try using a different brownie recipe as the base and that recipe happens to be in an 8 inch pan, make the topping with 1/2 cup chips, 8 oz cream cheese, 1/4 cup sugar, 3/4 teaspoon of vanilla and 1 egg. Check brownies at 40 minutes.
Recipe by
Cookie Madness
at https://www.cookiemadness.net/2013/04/white-chocolate-raspberry-cheesecake-brownies/