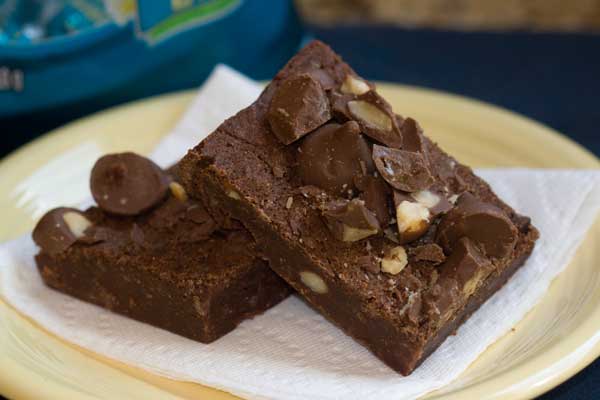 Macadamia Nut Milk Chocolate Kiss Brownies
Author: Cookie Madness
Prep time: 10 mins
Cook time: 26 mins
Total time: 36 mins
Brownies made with melted Hershey's Kisses, melted semisweet chocolate and topped with chopped Hershey's Kisses
9 tablespoons unsalted butter
3 1/4 ounces semisweet dark chocolate squares, chopped
25 Macadamia Nut Hershey's Kisses (or just use regular Kisses)
1/2 cup light brown sugar, firmly packed
2 tablespoons honey or corn syrup
3/4 teaspoon salt
1 teaspoon vanilla extract
2 eggs, lightly beaten with a fork
1 cup (4.5 oz) unbleached all-purpose flour
1/3 cup toasted macadamia nuts -- omit if using Macadamia Kisses
25 Macadamia Nut (or regular) Hershey's Kisses, roughly chopped
Preheat the oven to 350 degrees F. Line an 8 inch square metal baking pan with foil and spray with baking spray or line with parchment paper.
Melt the butter in a saucepan set over medium heat. Add dark chocolate and milk chocolate Kisses; reduce heat to low and stir until melted and smooth. Remove from heat and stir in the sugar, syrup, salt and vanilla. Gradually stir in the lightly beaten eggs, followed by the flour. When flour is incorporated, stir in the macadamia nuts (if using).
Pour the mixture into the prepared pan and bake for about 25 minutes or until the brownies appear set. Remove from the oven and immediately scatter the chopped Hershey's Kisses over the top. Return to the oven for exactly one minute.
Let the brownies cool to room temperature, then chill thoroughly.
Grasp foil, lift from pan and cut into squares while cold.
Make sure to chill the brownies thoroughly before cutting. They taste even better on Day 2.
Recipe by
Cookie Madness
at https://www.cookiemadness.net/2013/04/milk-chocolate-macadamia-nut-brownies/