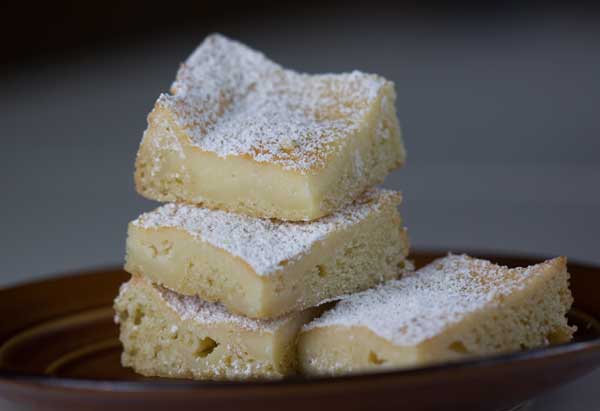 Gooey Butter Cake Bar Cookies
Author: Cookie Madness
Prep time: 10 mins
Cook time: 25 mins
Total time: 35 mins
Bar cookie version of the popular St. Louis cake
1 cup (4.5 oz) all-purpose flour
1/2 teaspoon salt
1/4 teaspoon baking soda
1 stick (4 oz) unsalted butter, room temperature
1/2 cup granulated sugar
1 teaspoon vanilla extract
1 large egg
Filling
1 1/2 sticks (6 oz) unsalted butter, softened
1 pinch Salt
1/2 teaspoon vanilla extract
6 tablespoons sweetened condensed milk
1/3 cup light corn syrup
1 large Egg
1/3 cup all-purpose flour
Preheat oven to 350 degrees F.Line a 9 inch square metal baking pan with foil and spray foil with cooking spray or rub with butter and line with parchment paper.
Sift flour, salt and baking soda together into a small bowl. Set aside.
In a large mixing bowl, beat the butter, sugar and vanilla together with an electric mixer. Scrape the bowl with a rubber spatula. Stir in the egg and beat until smooth.
Add the flour mixture and stir until well blended.
With flour on your fingers, press the dough into the bottom of the pan and set aside while you prepare the filling.
Beat the butter, salt and vanilla with the mixer until light and fluffy. Scrape the bowl with a rubber spatula.
Using lowest speed of mixer, beat in condensed milk. Beat for about 15 seconds. Scrape bowl and beat in the corn syrup. Add the egg and beat for 1 1/2 minutes on medium-high speed until the mixture is light and fluffy again. Scrape the bowl. With the mixer on medium-low speed, add the flour and beat until mixed, 30 seconds (I just stirred it in).
Pour the filling evenly over the base. Bake on the center rack of the oven until the edges appear set but the center is still jiggly, 25 to 27 minutes. Let cool to room temperature; then refrigerate until set, about 4 hours. Cut into 2 1/4-by-1 1/2-inch bars with a sharp thin knife, dipping it in hot water and wiping it clean before each new cut.
For thicker bars, you can bake these in an 8 inch square pan. If using an 8 inch square pan, reduce the heat to 325 and bake for a slightly longer time.
Recipe by
Cookie Madness
at https://www.cookiemadness.net/2013/04/gooey-butter-cake-bar-cookies/