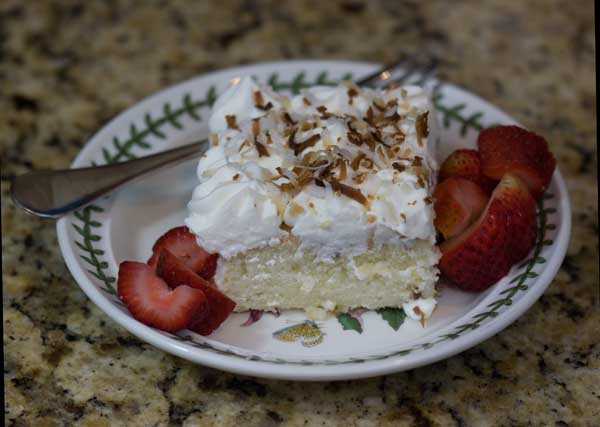 Author: Cookie Madness
Prep time: 20 mins
Cook time: 40 mins
Total time: 1 hour
Coconut cake made with coconut milk and condensed milk.
6 large egg whites at room temperature
12 tablespoons butter (6 oz), softened
1 1/3 cups granulated sugar
1 cup coconut milk (such as Goya)
1/2 cup milk
2 teaspoons Mexican vanilla extract
2 1/4 cups (9 oz) cake flour or White Lily
2 1/2 teaspoons baking powder
1 teaspoon salt
Syrup
1 can (14 oz) condensed milk (Eagle Brand)
1 can (14 oz) coconut milk
Whipped Cream Topping
2 cups heavy whipping cream
1/4 cup confectioners sugar
1 teaspoon Mexican vanilla extract
1/3 cup toasted flaked sweetened coconut
Preheat the oven to 350 degrees F. Spray a 9x13 inch metal pan with baking spray.
With an electric mixer, beat the room temperature egg whites until soft peaks form. Set aside.
With the electric mixer, beat the butter and sugar in a large mixing bowl until light and fluffy.
Combine the coconut milk, regular milk and vanilla in a measuring cup.
Combine the dry ingredients (flour through salt) in a small bowl and stir for 30 seconds.
With the mixer on low or by hand and using a big spoon or spatula scraper, add the dry mixture and the milk mixture to the creamed mixture alternately. Stir until blended.
With a silicone scraper, fold in the beaten egg whites.
Pour into the pan and bake on center rack for 35 to 40 minutes (may take up to 45). Place on a wire rack and let cool.
Meanwhile, poke holes in the warm cake with a skewer spacing about ½ inch apart. Combine the condensed milk and coconut milk and pour over the cake, very gradually, allowing mixture to drip down into the holes. When cool, cover and chill the cake for at least two hours.
Make the topping. In a large bowl, beat the cream until thick. Add the sugar and beat until stiff peaks start to form. Beat in the vanilla. Spread or pipe over the cake and sprinkle with toasted coconut. Serve directly from the pan.
Recipe by
Cookie Madness
at https://www.cookiemadness.net/2013/04/coconut-tres-leches-cake-with-mexican-vanilla/