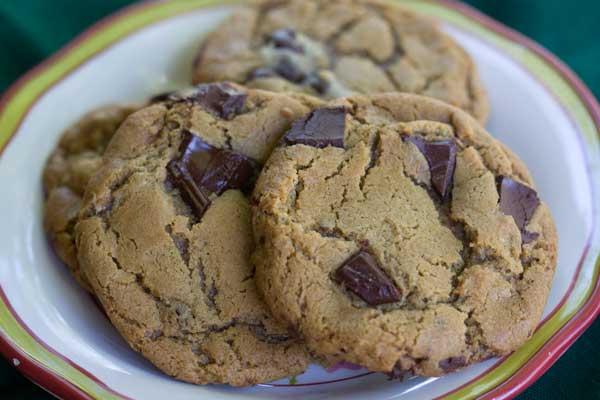 Jumbo Molasses Chocolate Chip Cookies
Author: Cookie Madness
Prep time: 10 mins
Cook time: 14 mins
Total time: 24 mins
Jumbo size dense, chewy chocolate chunk cookies
6 oz unsalted butter
1 large egg
1 large egg yolk
1/3 cup light brown sugar
1 cup granulated sugar
2 tablespoon molasses (I used Brer Rabbit Full Flavor)
1 tablespoon vanilla extract
2 1/3 cups unbleached all-purpose flour (10.5 oz)
1 1/2 teaspoon baking soda
1 teaspoon salt
2 cups large bittersweet or dark chocolate chips or 2 large bars 60% cacao chocolate, cut into chunks. Note: Chunks of chocolate may cause more spreading, so I recommend chips for the first batch.
Melt the butter in a microwave-safe bowl. Let it cool for 10 minutes.
In a large bowl, mix together the egg, yolk, both sugars, molasses and vanilla. Add the cooled butter.
In a separate bowl, mix together flour, baking soda and salt.
Stir flour mixture into sugar mixture until thoroughly combined. Stir in chocolate chips.
Scoop dough (about 1/4 cup -- but it's not precise) and shape into 16 equal sized mounds. If you have a scale, each dough mound should weigh about 2 1/2 oz. Place shaped mounds on a plate or tray, cover and chill thoroughly for at least 3 hours (overnight is best).
Arrange dough mounds about 3 inches apart on a baking sheet that has been lined with parchment paper. Bake at 350 degrees F. for 13 to 15 minutes or until cookies appear set, nicely browned and cracked. If cookies spread a little, push the edges inward using the tip of a spatula so that they're a little more rounded. Let cool on the baking sheet for about 10 minutes, then transfer to a wire rack and let cool completely. I like to put mine in the refrigerator to set the chocolate.
Consider the amount of chocolate a suggestion, but in my opinion these are best when you really stuff them to the max with chocolate. They expand quite a bit in the oven, so if it seems like you've added too many chocolate chips or chunks, you'll probably be happy with the finished product. The recipe does not double well.
Recipe by
Cookie Madness
at https://www.cookiemadness.net/2013/05/jumbo-chocolate-chip-cookies-with-a-secret-ingredient-okay-its-molasses/