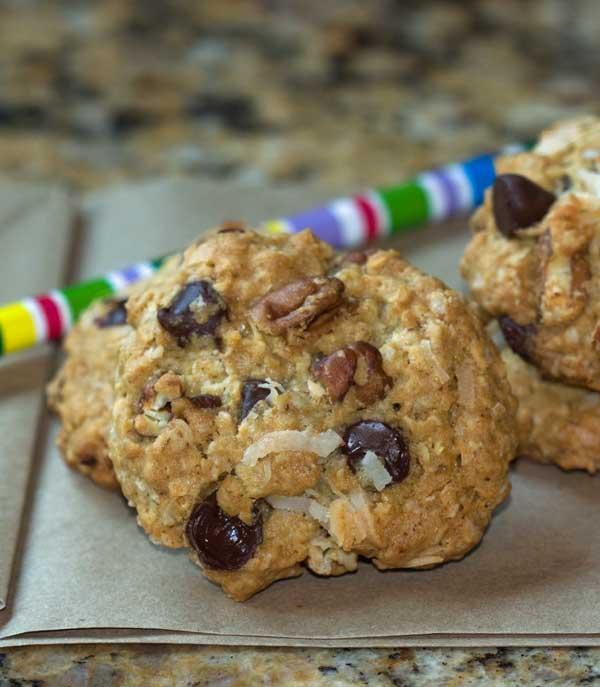 Coconut Pudding Oatmeal Chocolate Chip Pecan Cookies
Author: Cookie Madness
Prep time: 10 mins
Cook time: 14 mins
Total time: 24 mins
Oatmeal cookies with coconut instant pudding, chocolate chips, toasted pecans and coconut.
1 1/4 cups (5.8 ounces) all-purpose flour
3/4 teaspoon salt
1 teaspoon baking soda
2 sticks (8 oz) unsalted butter, softened
1/4 cup light brown sugar
3/4 cup granulated sugar
1 package (4 serving size) coconut instant pudding mix
2 large eggs
1 teaspoon vanilla extract
3 ½ cups quick cooking (not instant) oatmeal
1 cup dark chocolate chips (or more as needed)
1 cup of toasted and chopped pecans
1/2 cup flaked sweetened coconut (use more or less as needed)
Preheat oven to 350 degrees F. Line two baking sheets with parchment paper.
In a bowl, stir together the flour, salt and baking soda. Set aside.
In a mixing bowl, beat the butter, brown sugar, granulated sugar and pudding mix until creamy. Add the eggs one at a time and beat until mixed. Beat in the vanilla.
By hand or using the lowest speed of a mixer, stir in the flour mixture. When flour mixture is fully blended, stir in the oats, pecans , chocolate chips and coconut.
Using a generously rounded teaspoon or a level tablespoon, scoop up dough and shape into balls. Flatten the balls slightly (the cookies don't spread much) and arrange 2 ½ inches apart on the parchment lined baking sheets.
Bake on center rack for about 12 to 15 minutes or until lightly browned around the edges.
Yield is approximate because I was making cookies different sizes. If you keep them small (heaping teaspoons) you'll probably get about 32 or more. If you make them bigger, you'll obviously get fewer. Smaller cookies take about 10 to 12 minutes, larger might take up to 15.
Recipe by
Cookie Madness
at https://www.cookiemadness.net/2013/05/coconut-pudding-oatmeal-chocolate-chip-pecan-cookies/