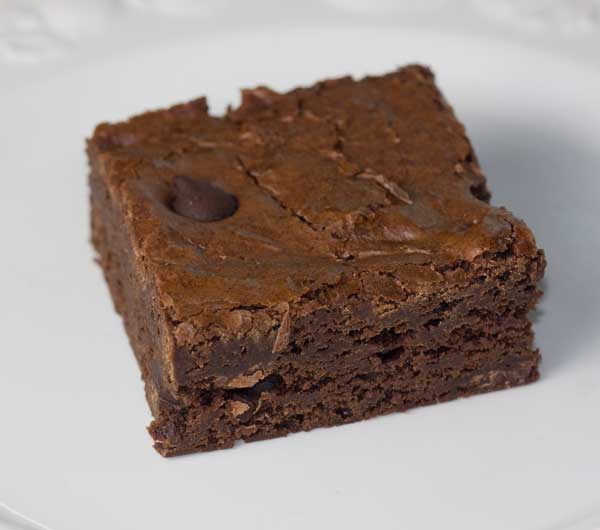 Author: Cookie Madness
Prep time: 10 mins
Cook time: 25 mins
Total time: 35 mins
Brownies baked in an 8 inch square Pyrex glass dish.
1/4 cup granulated sugar
1/4 cup light brown sugar
2 tablespoons unsalted butter
2 tablespoons water
3 oz semisweet or bittersweet (60%) chocolate
1 cup (6 oz) dark chocolate chips
2 large, cold eggs
1/2 teaspoon vanilla extract
2/3 cup (3 oz) all-purpose flour
1/4 teaspoon baking soda
¼ scant teaspoon salt
Another 1/2 cup dark chocolate chips
Preheat the oven to 325 degrees F. Grease an 8 inch square Pyrex dish and line with a strip of parchment so that the brownies can be removed from the pan.
In a medium saucepan, gently melt the butter. Add the water and both sugars and bring to a boil. Remove from heat and stir in chopped chocolate and chocolate chips until melted and smooth. Chocolate will begin to thicken as you stir.
Whisk the cold eggs in a second bowl, and then whisk or stir them into the chocolate mixture. Whisk in the vanilla. Combine the flour, baking soda and salt; stir into the chocolate mixture. Add the remaining chocolate chips (make sure that the batter is not so hot that it melts them) and spread batter evenly into the prepared pan.
Bake for 25 minutes on the center rack until brownies appear. Let cool to room temperature and then chill slightly. Lift from pan and cut into squares.
For the chocolate chips I used Nestle's new dark chips. I find their semisweet chips a little too sweet and usually use Guittard extra dark or Ghirardelli bittersweet. However, I tried Nestle's dark chips because I had a coupon and really liked them. They weren't as sweet as semisweet chips, and since I usually make cookies that are large, the larger size of the chip fit the cookies better. They're also a little cheaper and are often on sale. You can use any brand chocolate chip you want, but I do recommend going with something dark or bittersweet.
Recipe by
Cookie Madness
at https://www.cookiemadness.net/2013/05/glass-dish-brownies/