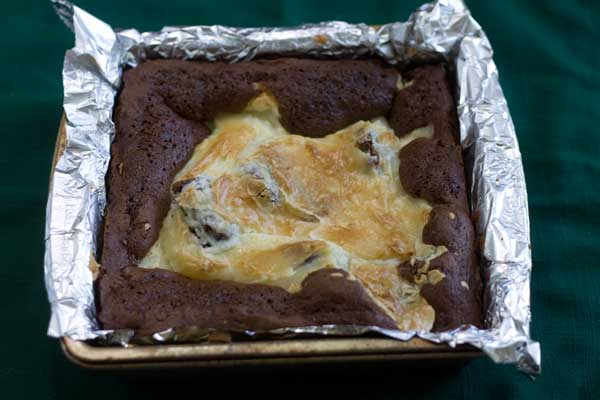 Author: Cookie Madness
Prep time: 10 mins
Cook time: 40 mins
Total time: 50 mins
An easy cake with layers of coconut, nuts, chocolate chip, German chocolate cake and cream cheese.
1 1/3 cup sweetened flaked coconut
1 cup walnuts or pecans, toasted and chopped
1/2 cup semisweet chocolate chips
4 ounces (1 stick) butter, softened (salted or unsalted okay)
8 ounces cream cheese, softened
1 pound (3 3/4 cup) confectioners' sugar
1 teaspoon of vanilla
1 box German chocolate cake mix plus eggs, oil and water as called for on box
Preheat oven to 350 degrees F. Rub a 9x13 inch metal baking pan thoroughly with butter. If using a glass dish, preheat to 325.
Sprinkle the coconut over the bottom of the pan, then layer with the nuts and chocolate chips.
In a medium bowl, using a hand held electric mixer, beat the softened butter, cream cheese, confectioners sugar and vanilla until smooth.
In a large mixing bowl, using the same mixer (you don't have to clean it), beat the cake mix and other ingredients called for on box (eggs, oil and water) until smooth.
Pour the cake mix over the coconut mixture.
Drop spoonfuls of cream cheese mixture over the cake mix and gently spread it to make one even layer. Don't spread it all the way to the sides.
Bake for 40 to 50 minutes.
Let the cake cool completely at room temperature, then transfer it to the refrigerator and chill before serving. You can serve it chilled or bring it back down to room temperature after chilling, but chilling makes it easier to slice.
Recipe by
Cookie Madness
at https://www.cookiemadness.net/2013/06/05/earthquake-cake/