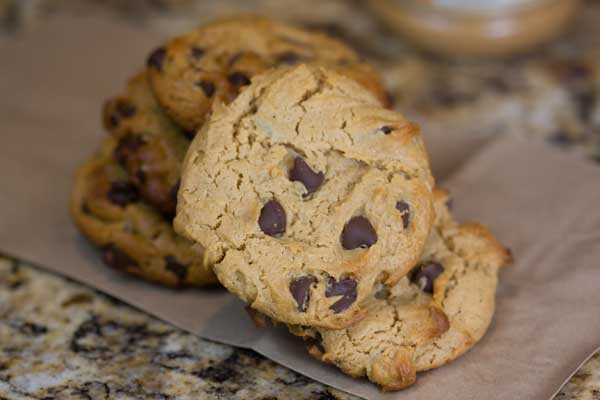 Chocolate Chip Peanut Butter Spelt Cookies -- Vegan and Easy!
Author: Cookie Madness
Prep time: 10 mins
Cook time: 12 mins
Total time: 22 mins
Chocolate Chip Peanut Butter Spelt Cookies
2 1/4 cups spelt flour
1 teaspoon baking soda
1 teaspoon salt
1 1/2 cups crunchy or creamy sweetened peanut butter, softened**
1 1/2 cups maple syrup/pancake syrup works too
2 teaspoons vanilla extract
1 1/2 cups chocolate chips, preferably vegan if you want to keep these vegan
Preheat the oven to 375degrees F. and line a couple of baking sheets with nonstick foil or parchment paper.
Mix the flour, baking soda, and salt in a bowl and set aside.
In a mixing bowl, combine the softened peanut butter, maple syrup and vanilla. Stir well, then add the flour mixture and stir until blended. Stir in the chocolate chips.
Using about 2 tablespoons per cookie, drop mounds of dough onto baking sheets. Flatten slightly and bake at 375 for about 12 to 15 minutes or until cookies are lightly browned and appear set. Let cool completely.
**The original recipe said to melt the peanut butter in the microwave. I didn't do it and my cookies were just fine. I also did not weigh the spelt flour, but I did stir it well before measuring. For the peanut butter, I used Jif Natural and am glad I did because the cookies needed the sweetness from the peanut butter. Spelt flour comes in dark and light. I used light spelt flour from the bin at Whole Foods. And finally, I put the cookies in the refrigerator to re-solidify the chips after they'd cooled slightly because I wanted them to be firm.
Recipe by
Cookie Madness
at https://www.cookiemadness.net/2013/06/chocolate-chip-peanut-butter-spelt-cookies-vegan-and-easy/