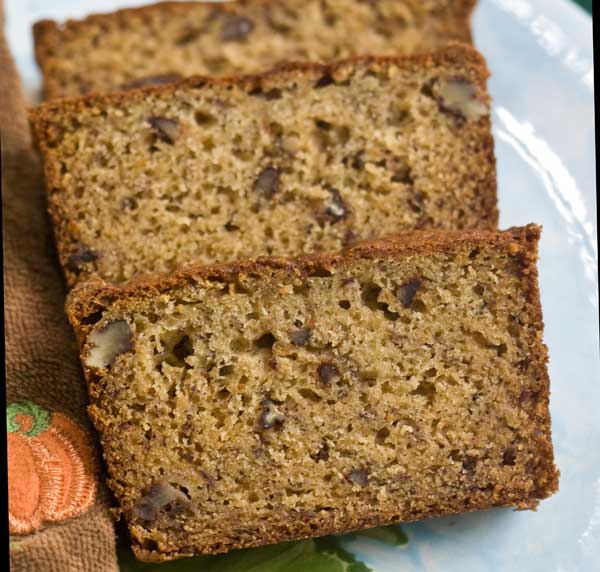 Honey Graham & Pecan Banana Bread
Author: Cookie Madness
Prep time: 15 mins
Cook time: 50 mins
Total time: 1 hour 5 mins
Banana bread made with graham cracker crumbs.
1 cup (4.5 oz) all-purpose flour
1 teaspoon baking soda
2 teaspoons baking powder
1/2 teaspoon salt
3/4 cup honey graham cracker crumbs
6 tablespoons unsalted butter, softened but still slightly cool
2/3 cup granulated sugar
2 large eggs, beaten lightly in a separate bowl
1 cup mashed banana (I used 3 bananas and it was a "generous" cup)
1 teaspoon vanilla extract
1/2 cup toasted and chopped pecans
Preheat oven to 350 degrees F. Grease and flour an 8 ½ by 4 ½ inch metal loaf pan.
In a medium size bowl, thoroughly mix together the flour, baking soda, baking powder, salt and graham cracker crumbs.
In a large mixing bowl, using an electric mixer, beat the butter until creamy and smooth. Add the sugar and continue beating for another 3 minutes or until mixture is light and creamy. With the mixer on lowest speed, gradually add egg a few tablespoons at a time. When all the egg is incorporated, beat on high for 1 minute. Beat in the vanilla and the mashed banana.
With a mixing spoon, gradually stir in the dry mixture, followed by the pecans.
Bake the bread in the lower third (not complete bottom, but not right in the center) of the oven for about 50 minutes or until it is brown and fully set. Let cool in pan for about 10 minutes, then carefully invert onto a cooling rack and let cool completely.
Recipe by
Cookie Madness
at https://www.cookiemadness.net/2013/06/honey-graham-pecan-banana-bread/