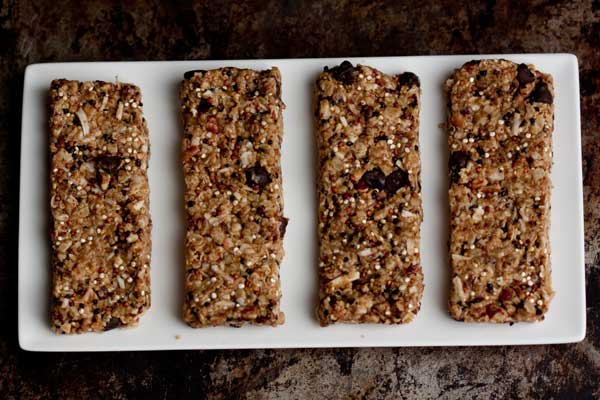 Toasted Oat and Quinoa Bars
Author: Cookie Madness
Prep time: 10 mins
Cook time: 25 mins
Total time: 35 mins
Granola bars made with quinoa, oats, cashews and dried cranberries.
1/3 cup tri-color quinoa
1/3 cup oats, quick cooking or old fashioned (not instant)
1/4 cup shredded coconut, unsweetened
1/3 cup finely chopped roasted nuts (cashews or a mixture of cashews and almonds)
2 or 3 tablespoons dried cranberries
1 teaspoon coconut oil
1 tablespoon brown sugar
3 tablespoons peanut butter
1/4 cup honey
1/8 teaspoon salt
1/4 teaspoon of vanilla
Preheat oven to 350 degrees F. Line a 9x5 inch metal pan with nonstick foil. Alternatively you can use regular foil and grease it or you can use parchment. Set aside.
Rinse the quinoa using your favorite method. I like to put it in a bowl, cover it with water, dump it all into a sieve, then rinse some more.
Drain the quinoa and spread it on a foil lined baking sheet. Add the oatmeal to the baking sheet and bake the two together for 5 minutes. Add the coconut and nuts to the baking sheet and continue to toast for another 5 minutes. Transfer to a mixing bowl.
In a saucepan, combine the coconut oil, brown sugar, peanut butter, honey and salt. Bring to a boil over medium heat.
Remove from heat and stir in the vanilla.
Pour the hot peanut butter mixture over the oats and add the vanilla and salt. Stir until well blended, then press tightly into the pan.
Bake for 18 minutes.
Let cool to room temperature, then chill for several hours. Lift from pan and cut into slices.
This recipe was designed for a large, 9x5 inch loaf pan -- preferably one that doesn't slant outwards too much, as you want a pretty flat and wide bottom to press the bars into.

For a 9 inch square pan, double the recipe.

For a 9x13 inch pan, triple the recipe.
Recipe by
Cookie Madness
at https://www.cookiemadness.net/2013/06/toasted-quinoa-cashew-cranberry-bars/