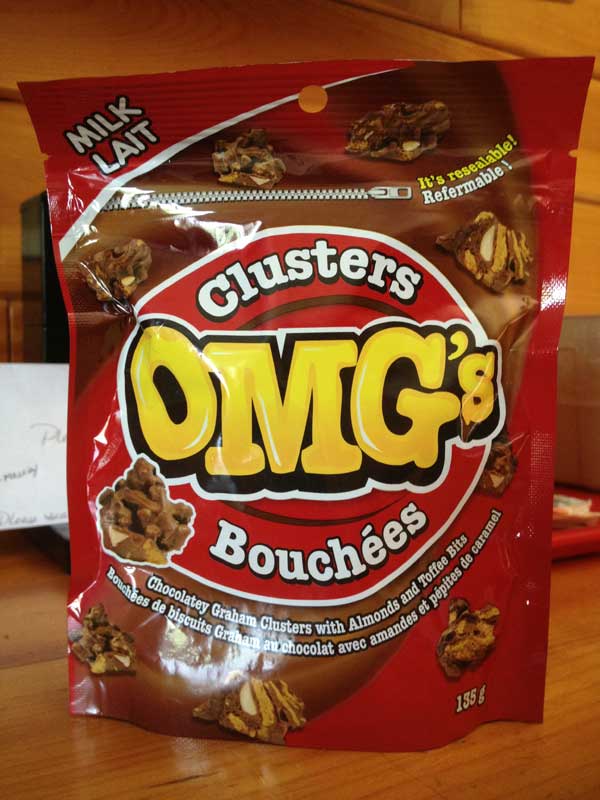 OMGs and Clodhoppers for Canada Day
Author: Cookie Madness
Prep time: 10 mins
Cook time: 60 mins
Total time: 1 hour 10 mins
Homemade OMG Candy Copycats
1/3 cup sliced almonds
6 ounces milk or dark chocolate, chopped**
4 graham cracker squares
1/4 cup Heath Chocolate Coated Toffee Bits
Line 20 to 24 mini muffin cups with miniature muffin papers or squares of nonstick foil or parchment paper. If you don't have liners, you could probably get away with rubbing generously with butter and chilling the greased pan before filling.
Put the almonds in a dry skillet and toast over medium to medium high heat, stirring often, until they start to brown. Remove from heat and put in a bowl to cool.
Break the graham crackers up into small 1/2 inch (ish!) chunks. Put them in the bowl with the almonds. Stir in the toffee bits.
In a microwave safe bowl, melt the chocolate using 50% power and stirring every 30 seconds.
Combine the chocolate and graham mixture and stir well.
Spoon mixture into lined mini muffin pan and chill until set. If using squares of parchment or foil, lift from pan and peel it away. If using cups, you can serve from the cups. If using a buttered tin, just pry the candies out.
Cook time is actually chill time. Mine were set in 30 minutes, but that might vary depending on the type of chocolate you use.
Recipe by
Cookie Madness
at https://www.cookiemadness.net/2013/07/omgs-and-clodhoppers-for-canada-day/