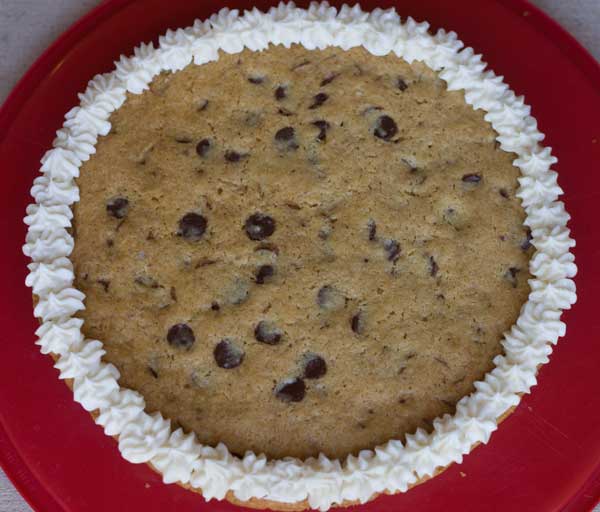 Gluten Free Chocolate Chip Cookie Cake
Author: Cookie Madness
Prep time: 10 mins
Cook time: 30 mins
Total time: 40 mins
A gluten free chocolate chip cookie cake made with Pamela's Pancake and Baking Mix. If you want the cake to be truly gluten free, double check the brands of ingredients you buy and make sure they were made in a wheat-free setting.
7 tablespoons butter, I used unsalted
1/4 cup granulated sugar
1/4 cup light brown sugar
1 large egg
1 teaspoon of vanilla extract
1 1/2 cups Pamela's Baking & Pancake Mix
1 1/3 cup chocolate chips (Enjoy Life makes a good gluten free chip)
Icing
1 stick (8 tablespoons) butter, softened
1 1/2 cups gluten-free confectioners' sugar
3/4 teaspoon of vanilla extract
1 tablespoon of whole milk or as more needed to get nice piping consistency.
Preheat oven to 300 degrees F. Line a 9 inch round metal cake pan with foil and spray foil with cooking spray.
With a handheld electric mixer, beat the butter and both sugars until creamy. Add the egg and beat until incorporated, then beat in the vanilla. Add the baking mix and stir to make a soft dough, then stir in the chocolate chips.
Weigh out about 12 ounces of dough. If you don't have a scale, just eyeball it and go with about 2/3 of the mixture. Put the dough in the center of the pan. Dampen your hands with a little water and press the dough into a circle so that it comes to about ½ inch from the sides and the cookie has plenty of room to spread.
Bake the cookie at 300 F for about 30 to 33 minutes or until it appears set and lightly browned. Let cool in the pan for about 15 minutes, then carefully lift and let cool completely. You can decorate the cookie as soon as it's cool or freeze it and decorate when you are ready.
To make the icing, beat the butter until creamy. Gradually add the sugar and vanilla. Add milk as needed until you get the consistency you like. Pipe around edges of cookie cake.
If you are making this for someone with celiac, double check and make sure all ingredients you buy are gluten-free.
Recipe by
Cookie Madness
at https://www.cookiemadness.net/2013/08/gluten-free-chocolate-chip-cookie-cake/