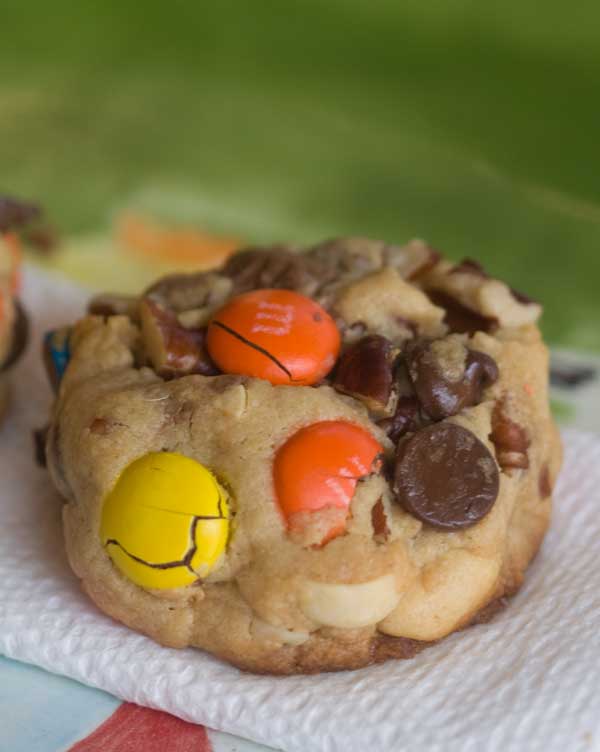 Author: Cookie Madness
Prep time: 10 mins
Cook time: 30 mins
Total time: 40 mins
Soft peanut butter cookies loaded with chips, peanut butter cups, nuts and M&Ms.
1/2 cup salted butter, softened
1/2 cup peanut butter
1/2 cup lightly packed brown sugar
1/2 cup granulated sugar
1 teaspoon vanilla extract
1 large egg
1/4 cup whole milk
1/4 teaspoon of salt (increase to 3/4 if using unsalted butter)
1 teaspoon baking soda
2 cups (9 oz) all-purpose flour, weigh it out or stir and aerate carefully
1 cup dark chocolate chips (or more)
1/2 cup plain M&Ms
10 miniature Reese's, cut into chunks (use more or less as desired)
3/4 cup chopped mixed nuts (I used pecans, peanuts and cashews)
Preheat the oven to 375 degrees F. Line two cookie sheets with foil or leave them ungreased.
In a mixing bowl, beat the butter until creamy. Beat in the peanut butter until mixed. Add both sugars and beat until creamy, then beat in the vanilla, egg and milk. Scrape sides of bowl and beat in the salt and baking soda. Add the flour and stir with a spoon until mixed. Stir in the chocolate chips, M&Ms, miniature Reese's and nuts. The dough should be packed with chunks.
Using a level tablespoon or heaping teaspoon, shape dough into balls and arrange on the baking sheets spacing 2 1/2 inches apart. Bake for about 10 minutes or until cookies appear set. Let cool on baking sheet for 10 minutes, then transfer to wire rack to cool.
If for some reason you are out of baking soda, you can make these with baking powder instead.
Recipe by
Cookie Madness
at https://www.cookiemadness.net/2013/08/peanut-butter-blowouts/