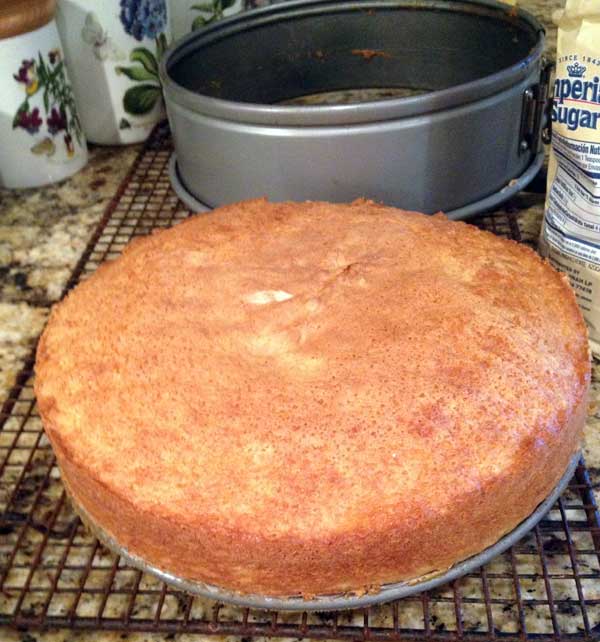 Bev's Hot Milk Sponge Cake Recipe and Boston Cream Pie
Author: Cookie Madness
Prep time: 30 mins
Cook time: 25 mins
Total time: 55 mins
This is one of those recipes where a stand mixer really comes in handy. The reward is light, sweet sponge cake perfect for Boston Cream Pie or serving with fresh fruit and whipped cream.
4 large eggs at room temperature
2 cups (400 grams) granulated sugar
2 1/4 cups (260 grams) cake flour or 2 cups. all-purpose flour
2 teaspoons baking powder
1/2 cup (114 grams) unsalted butter
1 cup milk, whole or 2% okay
1/2 teaspoon salt (Reduce to a pinch of using salted butter)
1 teaspoon vanilla extract
Preheat oven to 350 degrees F. and place the rack just below center.
In the bowl of a stand mixer, beat the eggs for 5 minutes or until they've tripled in volume. Add sugar and beat for 10 minutes longer. While the sugar and eggs are beating, sift together the flour and the baking powder.
Combine the butter, milk, and salt in a large glass measuring cup or saucepan and heat just until mixture boils and butter is melted Add the vanilla extract and set aside.
With mixer on low speed or by hand, mix the flour mixture into the whipped egg mixture.
Remove about 2 cups of batter and put it in a separate bowl. Stir the hot milk mixture into that batter, then add it all back into the main mixing bowl and stir until combined.
Pour the batter into your chosen pans (or pan) and bake until done.
-- 9 inch round pans will take about 30 minutes, a 9x13 pan will take about 40 minutes, a jelly roll should only take about 16 to 18 minutes. But watch closely and go buy appearance.
Recipe by
Cookie Madness
at https://www.cookiemadness.net/2013/09/bevs-hot-milk-sponge-cake-recipe-and-boston-cream-pie/