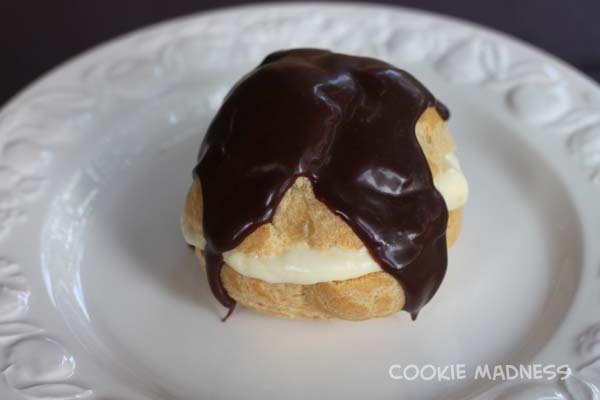 Basic Pastry Cream #2 -- This Might Be "The One"
Author: Cookie Madness
Prep time: 10 mins
Cook time: 5 mins
Total time: 15 mins
A thick and creamy, non-chalky, non-lumpy pastry cream recipe that's perfect for Boston Cream Pie.
2 cups of whole milk
2/3 cup granulated sugar
1/4 cup flour (1 oz.)
1/4 cup cornstarch (1 oz.)
4 large egg yolks
2 to 3 T. unsalted butter (I used three)
1 teaspoon of vanilla extract
Optional: 1 cup heavy cream, whipped
Place the milk and half of the sugar in a medium saucepan (see note). Slowly bring to a gentle boil.
While you're waiting for the milk mixture to come to a boil, whisk the remaining 1/3 cup sugar into the egg yolks until thick and pale. Combine the flour and cornstarch in a small bowl, then whisk the combined flour and starch into the egg/sugar mixture.
When the milk comes to a boil, whisk some (I used about a cup) of the hot milk into the egg mixture to temper and thin.
Reduce the heat to medium or if using a large burner, medium low, and add the tempered egg yolks to the boiling milk, whisking constantly. The pastry cream will thicken almost immediately. Continue to cook and stir until 1 or 2 large bubbles break the surface (this might take a minute or two, but it helps kill the enzymes that cause thinning). Remove from the heat and whisk in the butter and vanilla.
Transfer the pastry cream to a clean container. Press a piece of plastic wrap to the surface and chill until cold.
If desired, you may lighten the texture of the pastry cream by folding in the whipped cream after the pastry cream if fully chilled. You may want to sweeten the cream with 2-3 tablespoons of powdered sugar and add a little more vanilla before folding it into the pastry cream because the cream itself is just the right level of sweetness and adding unsweetened cream will make it slightly less sweet.
I use a 3 quart All-Clad without any coating on it since this requires lots of vigorous whisking and you don't want flecks of coating in your cream.
Recipe by
Cookie Madness
at https://www.cookiemadness.net/2013/09/basic-pastry-cream-2-this-might-be-the-one/