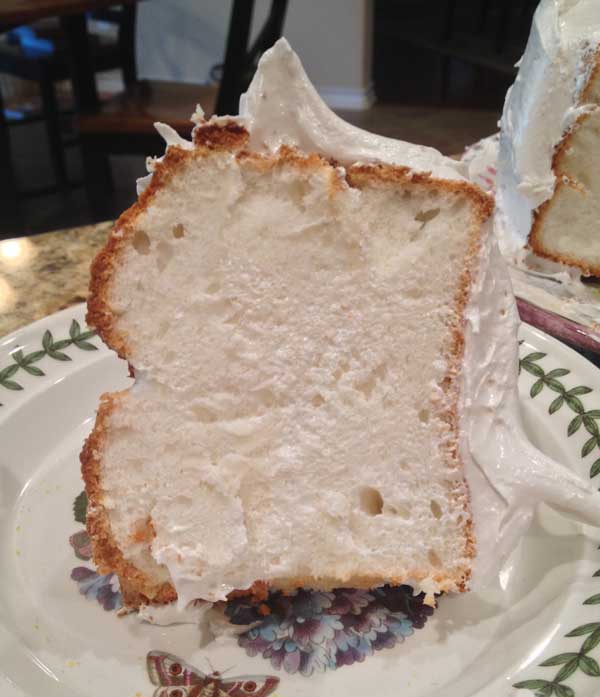 My Favorite Angel Food Cake
Author: Cookie Madness
Prep time: 180 mins
Cook time: 50 mins
Total time: 3 hours 50 mins
My Favorite Angel Food Cake
1 1/4 cups (7.25 oz) granulated sugar or "Baker's Sugar" if you can find it
1 cup (4 oz) cake flour
1/2 cup (2 oz) confectioner's sugar
1 2/3 cups egg whites (will need 11 to 13 eggs)**
1 1/2 teaspoons cream of tartar
1/2 scant teaspoon salt, kosher
1 1/2 teaspoons vanilla extract
3/4 teaspoon almond extract
7 Minute Icing
2 egg whites
1 cup of granulated sugar
¼ cup water
¼ teaspoon cream of tartar
1 teaspoon of corn syrup
Tiny pinch of salt
1-2 teaspoons of vanilla extract
Preheat the oven to 375 degrees F. Adjust oven rack so that it's right under (but not right in) the center.
Have ready a two part removable bottom angel food cake pan with legs.
Grind the granulated sugar in a coffee grinder or mini food processor. This makes for a tighter crumb, but you can skip it if you don't have a grinder or if you have Baker's Sugar.
Sift the cake flour and confectioners' sugar together. Set aside.
In the bowl of a stand mixer fitted with the whisk attachment, beat the egg whites just until foamy, then add the cream of tartar and continue beating until peaks are almost stiff. With the mixer still going, add the salt, then gradually add the sugar and continue beating until sugar is absorbed. Beat in the extracts.
Turn the mixer to the lowest speed and gradually pour the flour into the side of the stand mixer bowl, being careful not to deflate the whites. Remove mixer from stand and with a scraper, fold in any flour that didn't get blended in with the rest.
Scrape the cake batter into the pan and bake for 45 minutes or until the top is browned and cake springs back lightly when touched. Turn the cake pan upside down and invert onto its legs to cool for about two hours.
When the cake is completely cool, run a regular non-serrated knife around the edges of the cake pan and stem. Pull the cake out of the pan, then use the knife to loosen the part stuck to the base.
Seven Minute Frosting: Combine the egg whites, sugar, water, cream of tartar and corn syrup in the top of a double boiler and set it over simmering water. With a handheld mixer, beat on high for 7 minutes or until soft peaks have formed. Remove from heat. Beat in salt and vanilla and continue beating until icing is spreadable (if it's not already).
Spread icing over sides of the cake.
Eggs and whites come in various sizes, so measuring by volume or weight is the most accurate way to get the right amount of egg whites. I usually need at least 12 eggs to get 1 2/3 cup.
Recipe by
Cookie Madness
at https://www.cookiemadness.net/2013/09/my-favorite-angel-food-cake/