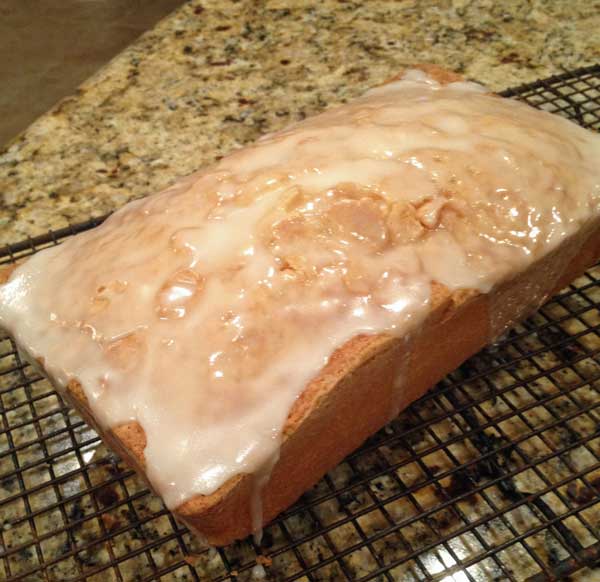 Lemon Sour Cream Pound Cake
Author: Cookie Madness
Prep time: 20 mins
Cook time: 120 mins
Total time: 2 hours 20 mins
A lemon pound cake adapted from Southern Living's "Smoothest Southern Pound Cake".
3 large eggs, separated
1 stick (114 grams) unsalted butter, softened but still cool (not melted!)
1 1/2 cups (294 grams) granulated sugar
1 1/2 cups (150 grams) sifted cake flour (measure after sifting)
3/8 teaspoon salt
1/8 teaspoon baking soda
1/4 teaspoon vanilla extract
1 tablespoon lemon zest and 1 tablespoon juice
1/2 teaspoon good quality lemon extract or lemon oil
1/2 cup sour cream, room temperature
Lemon Icing
1 1/2 cups confectioners' sugar
3 tablespoons fresh lemon juice, plus more as needed
Preheat oven to 325 degrees F. Grease and flour an 8x4 inch loaf pan or use a 6 inch Bundt pan.
With a handheld mixer, beat the egg whites until soft peaks form. Set them aside.
Using the same mixer, beat the butter and sugar in a mixing bowl until light and creamy.
Stir together the sifted cake flour, baking soda and salt and gradually add to the batter, stirring with a heavy duty scraper, until blended. Add egg yolks and stir until mixed, then add vanilla extract, lemon extract and lemon juice and stir well. Stir in the sour cream.
Fold in the beaten egg whites.
Pour into pan and bake and 325 for 45-50 minutes or until cake tests done.
To make the icing, put the sugar in a large bowl. Add lemon juice 1 tablespoon at a time, stirring all the while, until the consistency is somewhat like glue. Pour or drizzle over cake.
This pound cake was really good, but if you plan on making it in loaf pans, you should know that it probably won't have a big dome in the middle. It still tastes good, but I think this is batter is better suited for a tube pan or Bundt pan.
Recipe by
Cookie Madness
at https://www.cookiemadness.net/2013/09/lemon-sour-cream-pound-cake/