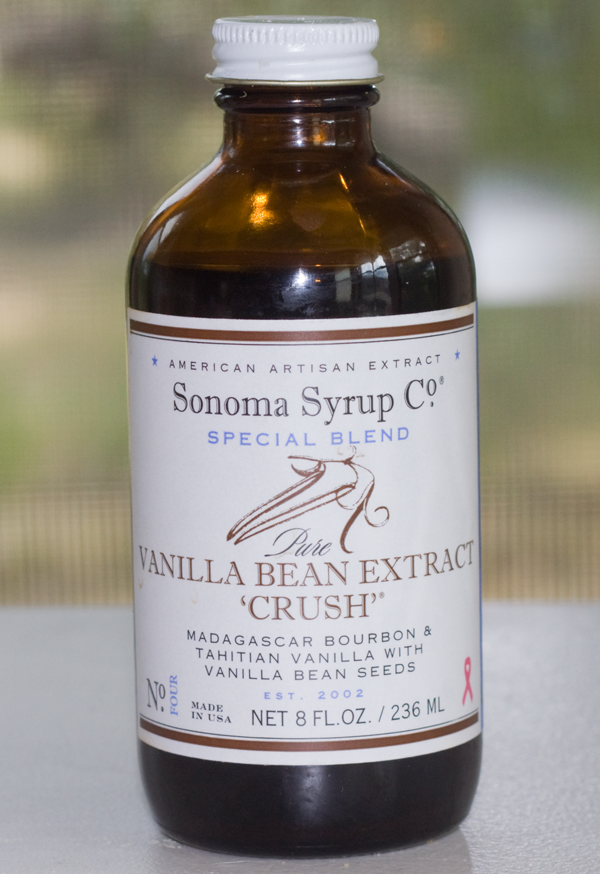 Sonoma Syrup Company Vanilla Crush
Author: Cookie Madness
Prep time: 20 mins
Cook time: 240 mins
Total time: 4 hours 20 mins
Vanilla ice cream made with a blend of fancy vanilla from Sonoma Syrup Company. Of course you can use any vanilla you want!
1 cup whole milk
3/4 cup granulated sugar
6 egg yolks from cage free chickens if possible
1/8 teaspoon of salt
2 cups organic heavy cream
1 tablespoon Sonoma Syrups Vanilla Crush
Set a sieve or strainer over a clean bowl and set aside.
Put the milk and half of the sugar in a large saucepan set over medium-low heat. I use a 3 quart All-Clad.
Meanwhile, in a mixing bowl (I like using a mixing bowl with a spout), whisk the remaining sugar, the six egg yolks, and the salt.
When the milk mixture comes to a simmer, carefully pour a few tablespoons at a time into the egg mixture, whisking all the while. Pour the the egg/milk mixture back into the saucepan and continue whisking over medium low heat, raising heat slightly as necessary, until mixture reaches 160 degrees on a thermometer. It won't be as thick as pudding at this point. Pour through the sieve into the clean bowl. Whisk in the 2 cups of cream and the vanilla.
Cover with a piece of plastic wrap and put in the refrigerator for about 4 hours or until very cold. Process as per the directions on your ice cream maker.
Makes about 3 1/2 cups.
Recipe by
Cookie Madness
at https://www.cookiemadness.net/2013/09/sonoma-syrup-company-vanilla-bean-extract-crush-review-and-tahitian-vanilla-ice-cream/