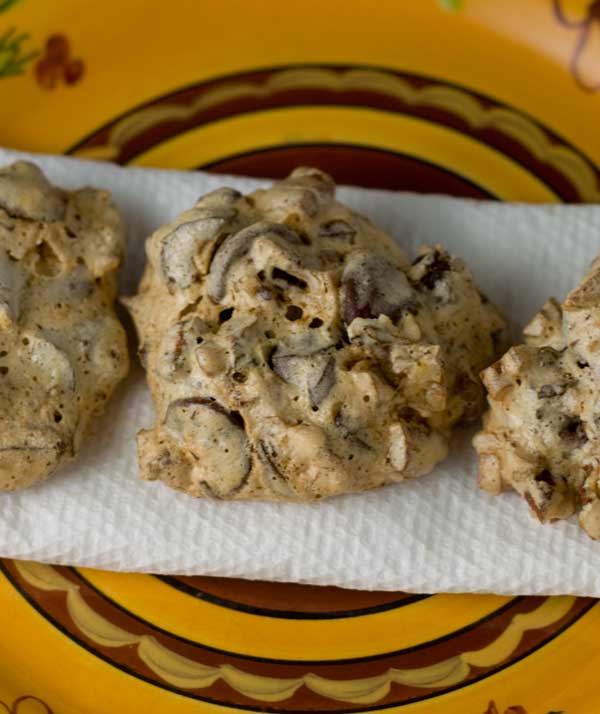 Date Nut Chocolate Chip Meringues
Author: Cookie Madness
Prep time: 10 mins
Cook time: 150 mins
Total time: 2 hours 40 mins
Easy turn-off-the-oven meringue cookies with nuts, dates and chocolate chips.
2 large egg whites
1 cup sifted confectioners' sugar
1 cup pecans, toasted and chopped**
2/3 cup finely chopped dates
3/4 cup dark chocolate chips
Preheat oven to 300 degrees F. and Line two baking sheets with parchment paper.
In a mixing bowl, beat the egg whites with an electric mixer until stiff peaks form. Beat in the sugar a few tablespoons at a time. Stir in the pecans, dates and chocolate chips.
With a generously rounded teaspoon, drop 12 mounds of cookie dough onto each baking sheet. Set one sheet on the middle rack and one on the lower rack and bake for 15 minutes.
After 15 minutes, reduce the oven temperature to 275 degrees F, shift the baking sheets so that the sheet on the bottom is now on the top and vice versa. bake for another 15 minutes at 275 degrees F.
Turn off oven and let the cookies sit in the closed "off" oven for about two hours.
To toast the pecans, lay them on a baking sheet and bake at 350 degrees F for 6 to 8 minutes. Let cool completely, then chop.
Recipe by
Cookie Madness
at https://www.cookiemadness.net/2013/09/date-nut-chocolate-chip-meringues/