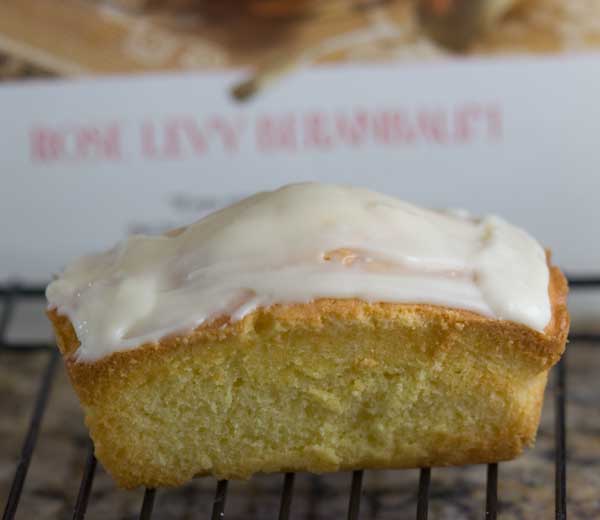 Perfect Pound Cake with Vanilla, Butter & Nut Extract
Author: Cookie Madness
Prep time: 10 mins
Cook time: 50 mins
Total time: 1 hour
This is a great cake, but only if you follow the directions precisely. Weigh your ingredients, mix as instructed and use the right size pan.
3 tablespoons milk
3 large eggs, room temperature
1 1/2 teaspoons of McCormick Vanilla, Butter & Nut Extract
1/2 teaspoon of regular vanilla extract
1 1/2 cups sifted cake flour (5.25 oz) – don't substitute and definitely weigh it
3/4 cup granulated sugar (5.25 oz)
3/4 teaspoon baking powder
1/4 teaspoon salt
13 tablespoons unsalted butter, softened
Icing
1 tablespoons butter, melted
1 cup sifted powdered sugar
4-6 teaspoons of cream or milk
1/4 teaspoon of really good vanilla extract
Preheat oven to 350°F. Grease an 8 by 4 inch loaf pan and line the bottom with a strip of parchment paper. If you don't have an 8x4 inch loaf pan you can substitute three 3 x 5 inch loaf pans. With the small loaf pans, preheat oven to 325 degrees F.
In a mixing bowl or large measuring cup, combine the milk, eggs and extract.
Sift the dry ingredients into a large bowl and stir well. Add the butter and half the egg mixture and stir to moisten. Mix on low speed with a handheld mixer, then increase speed to medium and beat for one minute, scraping sides of the bowl.
Gradually add the remaining egg mixture in 2 or 3 batches, beating for 20 seconds after each addition to incorporate the ingredients and strengthen the structure. Scrape down the sides.
Scrape the batter into the prepared pan (or pans) and smooth the surface with a spatula. The batter should be about ½ inch from the top.
Bake 55 to 65 minutes for an 8x4 inch cake, or 45 to 50 minutes at 325 for 3x5 inch cakes. If the cake seems to be browning too quickly, lay a sheet of foil loosely over the top. I've never had to do this.
Let the cake (or cakes) cool in the pan on a rack for 10 minutes and invert it onto a greased wire rack. Reinvert so that the top part is upright. Let cool completely, then pour icing over the top.
To make the icing, combined melted butter and powdered sugar in a large bowl and stir well. Add the cream about a teaspoon at a time or until batter is thin enough to pour. Stir in some vanilla. Make sure the cake is completely cool before adding icing.
Recipe by
Cookie Madness
at https://www.cookiemadness.net/2013/09/25/perfect-pound-cake-with-vanilla-butter-nut-extract/