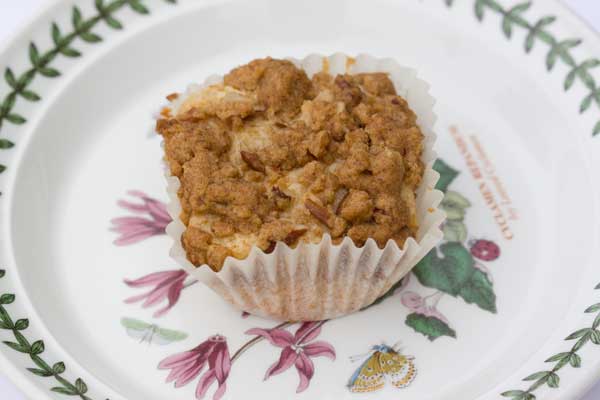 Pancake Mix Sour Cream Streusel Coffee Cake
Author: Cookie Madness
Prep time: 10 mins
Cook time: 30 mins
Total time: 40 mins
This is a very moist and delicious coffee cake made with pancake mix. I used Hungry Jack Complete Buttermilk flavor and baked the cake in cupcake form.
TOPPING
1/3 cup pancake mix (I used Hungry Jack Pumpkin & Spice flavor)
1/3 cup firmly packed brown sugar, I used dark
1 tsp ground cinnamon
1/3 cup chopped nuts,
1/4 cup softened butter
BATTER
2 cups pancake mix (I used Hungry Jack Complete Buttermilk)
1/2 cup sugar
1 ½ tsp ground cinnamon
1 cup sour cream
1/4 cup vegetable oil (Crisco, shortening okay too)
1 large egg, slightly beaten (see notes on halving)
powdered sugar (optional)
Heat oven to 350°F (175°C). Spray a 9-inch (23 cm) square or round baking pan with non-stick cooking spray or line about 20 to 22 cupcake cups with paper liners. I used square cupcake cups and pushed round liners into them so the cupcakes would bake as squares.
Mix pancake mix, brown sugar, 1 teaspoon cinnamon, chopped nuts and butter for topping in a medium bowl until combined. Set aside.
Combine pancake mix, sugar and 1 teaspoon cinnamon. Add sour cream, oil and egg. Blend just until dry ingredients are moistened. Spread half the batter into prepared pan, sprinkle with half the topping mixture. Spread with remaining batter and sprinkle with remaining topping. If making as cupcakes, just divide the batter evenly between the muffin cups and spoon topping.
Bake 30 to 35 minutes for a full cake or about 20 minutes for cupcakes. Cakes are done when a toothpick inserted in center comes out clean. Serve garnished with powdered sugar, if desired.
If you want to make a half batch, halve an egg by cracking it into a cup, mixing with a fork and measuring out 2 tablespoons of egg.
Recipe by
Cookie Madness
at https://www.cookiemadness.net/2013/09/sour-cream-streusel-coffee-cake-or-cupcakes-made-with-pancake-mix/