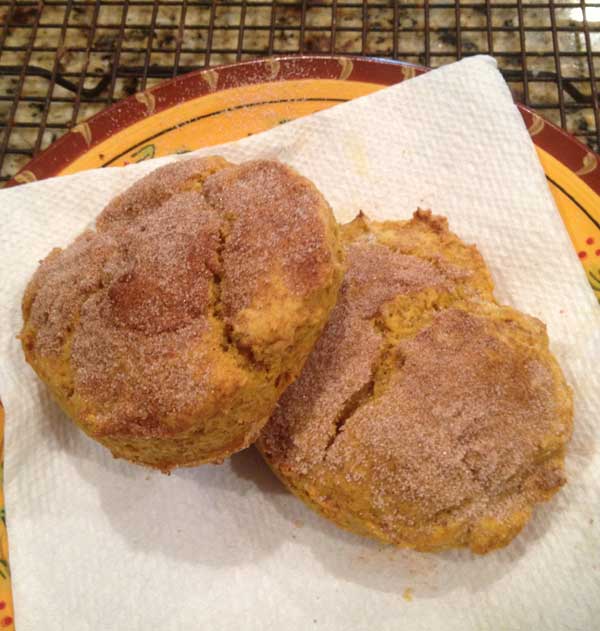 Pumpkin Biscuits with Cinnamon Sugar
Author: Cookie Madness
Prep time: 10 mins
Cook time: 15 mins
Total time: 25 mins
Quick and easy recipe for pumpkin biscuits topped with cinnamon sugar.
2 cups all-purpose flour
2 tablespoons granulated sugar
1 tablespoon baking powder
1 teaspoon baking soda
1/4 teaspoon of salt**
2 teaspoons pumpkin pie spice
1 stick (4 oz) salted butter, cold and cut into small chunks
2/3 cup canned pumpkin, measure carefully
1/2 cup buttermilk or milk soured with a little lemon juice
Topping
2 tablespoons granulated sugar
1/2 to 1 teaspoon of cinnamon
Preheat oven to 425 degrees F. Line a baking sheet with parchment paper.
In a mixing bowl, combine the flour, sugar, baking powder, baking soda, salt and pumpkin pie spice and stir until very well mixed.
Scatter bits of butter over the flour mixture. Using your fingers or a pastry cutter, cut in the butter until mixture is coarse and crumbly.
Mix together the pumpkin and buttermilk. Add it to the dry mixture and stir to make a very soft dough.
Empty mixture out onto a floured surface and press down to about 1 inch. Using a 2 1/2 inch cutter, cut about 9 biscuits and arrange on the baking sheet. If you use a smaller cutter, you'll get more biscuits. A larger cutter will give you fewer biscuits.
Combine the 2 tablespoons of granulated sugar with the cinnamon and sprinkle cinnamon sugar generously over the tops of the muffins.
Bake for about 15 minutes or until muffins appear brown and cooked through.
**If you use unsalted butter, increase the salt by a generous 1/4 teaspoon.

This dough is pretty soft. To keep the dough from sticking to your fingers, dampen your hands with a little water -- not to much that you get extra water in the dough.
Recipe by
Cookie Madness
at https://www.cookiemadness.net/2013/10/04/pumpkin-biscuits-with-cinnamon-sugar/