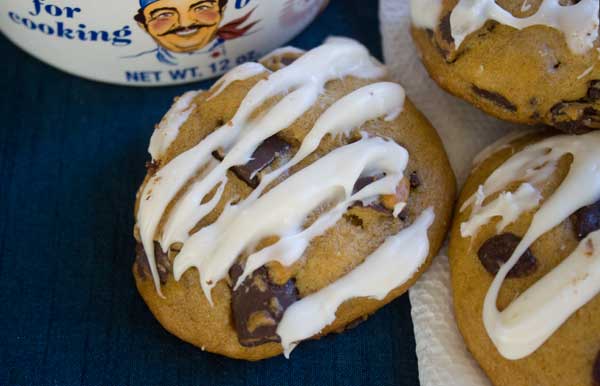 Iced Pumpkin Chocolate Chunk Cookies
Author: Cookie Madness
Prep time: 10 mins
Cook time: 10 mins
Total time: 20 mins
Pumpkin chocolate chunk cookies with vanilla icing drizzled or spooned across the top.
3/4 cup canned pumpkin
1 cup granulated sugar
1/2 cup vegetable oil (I used grapeseed)
1 egg
1 teaspoon water
1/4 cup water
1 teaspoon vanilla extract
2 cups (9 oz) all-purpose flour
1 Tbsp SACO Cultured Buttermilk Blend
1 teaspoon baking soda
2 teaspoons baking powder
1 teaspoon cinnamon
1/2 teaspoon salt
1 cup chocolate chunks or chocolate chips
Glaze
1 tablespoon butter
2-4 tablespoons cream or milk
1 cup powdered sugar, sifted
1/2 teaspoon Vanilla extract
Preheat oven to 375°F. Line a baking sheet with parchment paper or a Silpat.
Mix together the first seven ingredients and blend until smooth. I did this with a spoon.
In a separate bowl combine remaining ingredients, except chunks; then combine with pumpkin mixture. Add chocolate chips or chunks.
Drop onto sheets in tablespoon sized drops. Bake for 8-10 minutes (mine took 10). Let cool completely on a rack, then make the glaze.
In a mixing bowl or large microwave-safe liquid measuring cup, melt the butter. Add the sugar and stir until mixture is like thick dirt, then add cream 1 tablespoon at a time until the mixture is about the consistency of Elmer's glue. Spoon it over the cookies. You can let the icing set at room temperature or speed things up a bit and throw it in the refrigerator.
Recipe by
Cookie Madness
at https://www.cookiemadness.net/2013/10/09/iced-pumpkin-chocolate-chunk-cookies/