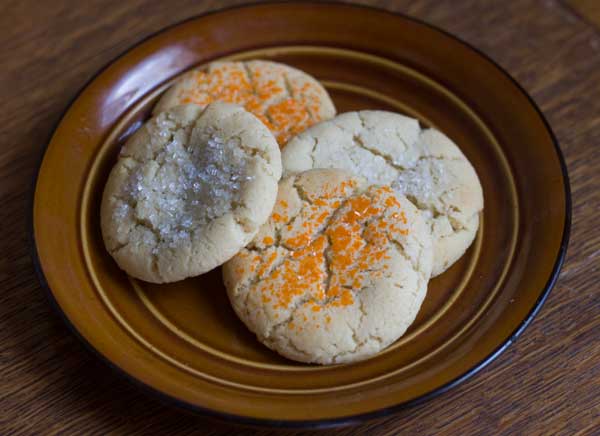 My New Favorite Sugar Cookies
Author: Cookie Madness
Prep time: 10 mins
Cook time: 12 mins
Total time: 22 mins
This is my favorite chewy sugar cookie. My friends say they taste like the cookies from Potbelly when I use McCormick Vanilla, Butter & Nut Extract
2 1/4 cups (11 1/4 oz) all-purpose flour (I used unbleached)
1 teaspoon baking powder, Rumford is my favorite
1/2 teaspoon baking soda
1/2 teaspoon salt
1 1/2 cups (10 1/2 oz) granulated sugar
2 oz cream cheese, cut into about 8 pieces
6 tablespoons of butter
1/3 cup vegetable oil, canola or flavorless
1 large egg at room temperature
A tablespoon of whole milk (I have forgotten this on occasion)
1 3/4 teaspoons of good vanilla extract
1/4 to 1/2 teaspoon of McCormick vanilla & butternut extract or Watkins Vanilla Nut (or another brand if you know of one)
Extra sugar for putting on top OR colored sugar
Preheat the oven to 350 degrees F.
Line a baking sheet with parchment paper or a Silpat.
Mix the flour, baking soda, baking powder and salt together and set aside.
Put the 1 1/2 cups sugar and the cream cheese in large mixing bowl. Melt the butter in the microwave and pour the warm melted butter over sugar and cream cheese, then whisk to combine. Don't worry about stray lumps of cream cheese (though I haven't had any). Whisk in oil until well incorporated. Then add the egg, milk, vanilla and butternut extract. Whisk until smooth. Add flour mixture and mix until combined.
Using a slightly heaping tablespoon, roll dough onto about 24 balls. Arrange balls 2 1/2 inches apart on the baking sheets. Using the bottom of a 1/4 cup measure, press down slightly — not too much, just enough to flatten the top somewhat.
Sprinkle regular or colored sugar over the cookies and bake one sheet at a time for 11-13 minutes or until edges just start to brown (turn the sheet around halfway through baking). Let them cool on the cookie sheet for about 5 minutes before transferring to a wire rack.
Adapted from an America's Test Kitchen recipe.
Recipe by
Cookie Madness
at https://www.cookiemadness.net/2013/10/my-new-favorite-sugar-cookies/