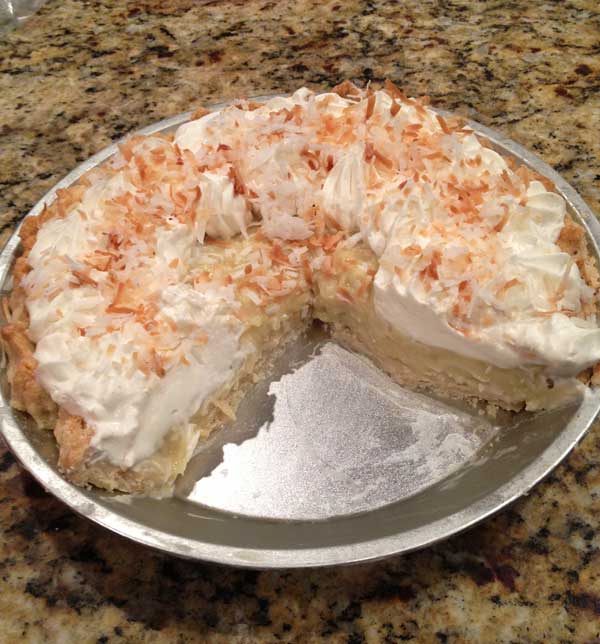 Coconut Cream Pie with Coconut Milk
Author: Cookie Madness
Prep time: 20 mins
Cook time: 20 mins
Total time: 40 mins
An easy coconut cream pie recipe made with coconut milk
9 inch crust, baked as directed
1/2 cup granulated sugar
2 large eggs
1 large egg yolk
3 tablespoons all-purpose flour
1 1/2 cups lite coconut milk
1 cup sweetened flaked coconut
1 teaspoon vanilla extract
¼ teaspoon coconut extract
Topping
1 1/4 cups chilled whipping cream
1/3 cup confectioners' sugar
1 teaspoon vanilla extract
1/2 cup shredded sweetened coconut, toasted
Whisk sugar, eggs, egg yolk, and flour in a medium bowl.
Bring coconut milk to a simmer in a medium saucepan over medium heat. Gradually add hot coconut milk to egg mixture, whisking constantly. Return to same saucepan; cook until pastry cream thickens and boils, stirring constantly, for about 4 minutes. Remove from heat. Mix in coconut, vanilla and coconut extract. Pour filling over baked crust and let cool slightly. Cover with a piece of parchment or wax paper and chill until firm and cold.
Using electric mixer, beat cream until soft peaks form. Beat in sugar, and extract. Spread whipped cream all over top of filling (or pipe it around edges). Sprinkle evenly with toasted coconut.
To toast coconut, lay it on a parchment lined baking sheet and bake at 350F until it edges start to brown. Mix it all up on the tray so that the browned parts are mixed with the still-white coconut. Let cool.
Recipe by
Cookie Madness
at https://www.cookiemadness.net/2013/11/08/coconut-cream-pie-with-coconut-milk/