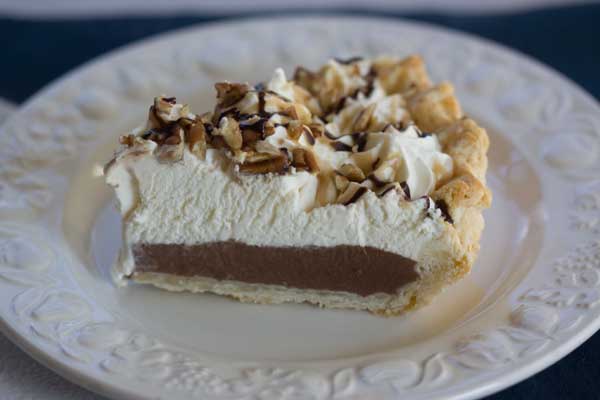 New and Improved Earl's Chocolate Pie
Author: Cookie Madness
Prep time: 20 mins
Cook time: 10 mins
Total time: 30 mins
An easy chocolate pie drizzled with caramel sauce and chocolate sauce. The filling is made with evaporated milk.
1 baked 9 inch crust, use your favorite recipe or buy one and bake it
Filling:
3/4 cup granulated sugar
3 tablespoons unsweetened cocoa powder (Rodelle Dutch works well)
3 tablespoons flour
Small pinch of salt
3 large egg yolks
1 cup evaporated milk
1 cup water
1 tablespoon room temperature unsalted butter
1 teaspoon good vanilla extract
Whipped Cream
1 ½ cups heavy whipping cream
1/3 cup powdered sugar
1 teaspoon vanilla extract (Sonoma Crush)
Garnish
1/2 cup toasted and chopped pecans
Chocolate Syrup
Homemade or store bought caramel syrup
Bake a 9 inch pie crust using your favorite homemade recipe or refrigerated or frozen dough.
In a large saucepan (I use a 3 quart All-Clad metal), whisk sugar, cocoa powder, flour, salt, egg yolks, evaporated milk and water together. Put the saucepan over medium heat and stir for about five minutes or until mixture thickens and big bubbles start to form on the surface. From the time the mixture starts bubbling and boiling, continue stirring for an additional 1 1/2 to 2 minutes.
Remove from heat and pour into a glass bowl. Quickly whisk in the butter, then whisk in the vanilla. Put a piece of buttered parchment or wax paper over the top and let cool at room temperature for about an hour. Note: At this point you may think the filling seems to thin, but it will set when you chill it. Pour the slightly cooled filling into the baked pie shell and chill for several hours or until very cold.
When the pie is chilled, beat the cream until peaks start to form, beat in the sugar and vanilla until peaks are stiff, then put cream in a pastry bag or heavy duty zipper bag with the end snipped off and pipe it over the top. Sprinkle the toasted and chopped nuts, then drizzle with caramel syrup and chocolate syrup.
I use Rodelle cocoa powder and the flavor of the chocolate reminds me of cook & serve chocolate pudding. I haven't tried this pie with anything other than Dutch, so it's possible using natural might change the consistency.

My saucepan is metal so my filling thickens fairly quickly. Yours may take longer if you use a thicker saucepan.

That two minutes of stirring after the mixture starts to boil is supposed to kill enzymes in the eggs that cause filling to thin out after it sets.

If you really want to lighten the pie, replace the whipped cream with Cool Whip Lite. I've never tried this, but you could try replacing the crust by baking No-Pudge brownie in a glass pie plate, using the filling as directed, and topping with light whipped topping.
Recipe by
Cookie Madness
at https://www.cookiemadness.net/2013/12/new-and-improved-earls-chocolate-pie/