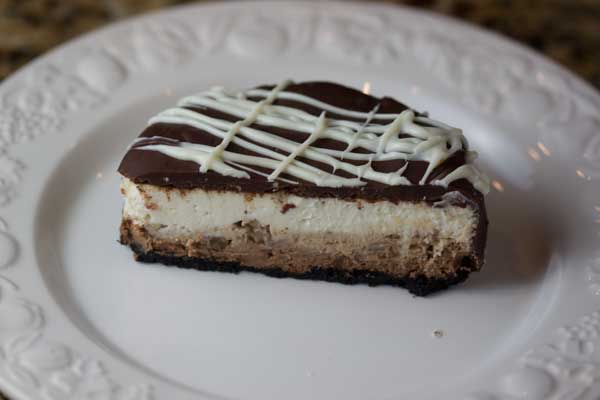 Four Inch Cheesecake -- Chocolate Glazed Triple Layer
Author: Cookie Madness
Prep time: 20 mins
Cook time: 45 mins
Total time: 1 hour 5 mins
Small Chocolate Glazed Triple Layer Cheesecake
Crust Layer
6 Oreos
1 tablespoons butter
Chocolate Layer
2 oz cream cheese, softened
1 tablespoon of granulated sugar
1 tablespoon of lightly beaten egg
1/8 teaspoon vanilla
1/2 ounces of melted semisweet chocolate
1 ½ scant tablespoons sour cream
Brown Sugar Layer
2 oz cream cheese, softened
1 ½ packed tablespoons dark brown sugar
1 tablespoons lightly beaten egg
1/4 teaspoon of vanilla
1 tablespoons pecans
White Layer
2 1/2 oz cream cheese, softened
2 tablespoons granulated sugar
2 tablespoons egg at room temperature
1/2 cup sour cream at room temperature
1/2 teaspoon vanilla extract
Chocolate glaze (see bottom)
Crumb Crust: Grind Oreos (filling and all) in food processor or crush in a bag. Combine cookie crumbs and butter. Press into the bottom of two four inch cheesecake pans.
Chocolate Layer: cream cheese and sugar and beat until creamy. Add egg and and vanilla; blend well. Stir in melted chocolate and sour cream. Spoon over chocolate crumb layer.
Brown Sugar Layer: Combine cream cheese, brown sugar and stir well. Add egg and vanilla; blend well. Stir in pecans. Spoon gently over chocolate layer.
White Sour Cream Layer: Combine cream cheese and sugar; beat until fluffy. Add egg and blend well. Stir in remaining sour cream and vanilla. Spoon gently over praline layer.
Bake at 300 degrees for 45 minutes. After the cakes have cooled for about 10 minutes, loosen the edges with a knife, but do not completely remove the sides. Let cool for another 40 minutes or so, then remove the sides and make one of the glazes below. Pour over cakes and chill.
Original Chocolate Glaze: Combine 3 oz chopped semi-sweet chocolate and 2 tablespoons of butter in a small saucepan and melt over low heat. Remove from heat and stir in 1/3 cup of sfited powdered sugar, 1 tablespoon of water and 1/2 teaspoon of vanilla until smooth. Pour over cakes.
Alternative Glaze: Heat 3 tablespoons heavy cream and 2 teaspoons of corn syrup in a 2 cup microwave-safe glass measure until very hot but not quite boiling. Add 2 ounces of chopped chocolate and stir until melted. It will be rather thin, so let it sit for about 30 minutes or until it cools and thickens a bit, then pour it over the cheesecake.
At this point, the cake needs some sort of garnish. You could pile chocolate leaves on top, add nuts or do what I do and drizzle lines of melted white chocolate over the top.
I listed two glazes, but there is yet another alternative! You could just mix equal parts heavy cream and good chocolate to make a basic ganache.
Recipe by
Cookie Madness
at https://www.cookiemadness.net/2013/12/27/four-inch-cheesecake-chocolate-glazed-triple-layer/