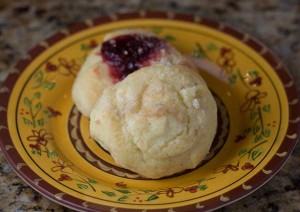 Kalches or Pudding Mix Kolaches
Author: Cookie Madness
Prep time: 120 mins
Cook time: 15 mins
Total time: 2 hours 15 mins
"KALCHES" aka Kolaches -- an heirloom kolache recipe that calls for pudding.
1 4-oz package vanilla pudding or 1 3-oz box and 2 tablespoons of sugar
1 1/2 cups milk
1/2 cup butter, I used unsalted
2 envelopes yeast
1/2 cup warm water
2 eggs
2 tsp salt
5 to 5 1/2 cups flour, I used bread flour
Make cooked pudding according to package directions using 1 1/2 cups milk. Remove from heat. Stir in butter and cool to lukewarm, stirring occasionally.
Dissolve yeast in warm water and stir into pudding. Beat in eggs and salt. Add enough flour to make moderately soft dough.
Turn out onto floured surface and knead 5 to 10 minutes, then place in greased bowl, turn once to grease surface. Cover and let rise in warm place until double. Punch down.
Form dough balls the size of a walnut and arrange on greased cookie sheet 1 ½ inches apart. Punch down center of dough ball and fill hollow with cherry pie filling. Let rise until almost double.
Bake at 375 for 15 minutes.
I wasn't able to find a 4 oz box of boxed cook and serve pudding, so I used a 4 serving size box (3 oz) and added 2 tablespoons granulated sugar.
Recipe by
Cookie Madness
at https://www.cookiemadness.net/2014/01/kolaches-made-with-pudding-mix/