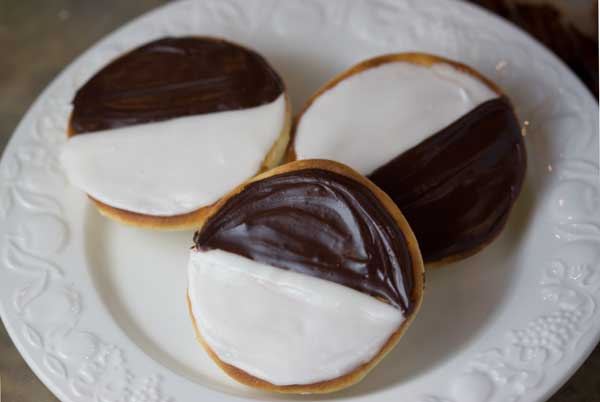 Black and White Cookies Inspired by Zabar's
Author: Cookie Madness
Prep time: 20 mins
Cook time: 12 mins
Total time: 32 mins
Black and White Cookies that are fat, puffy, and not overly cakey. These are supposed to be similar to Zabar's, but I'm not sure they really are.
8 oz (2 sticks) unsalted butter, softened
1 3/4 cups granulated sugar (12.25 oz)
4 large eggs at room temperature
1 cup whole milk
1/2 teaspoon vanilla extract
1/4 teaspoon lemon extract or vanilla butter & nut extract
1 teaspoon baking powder
1/2 to 1 teaspoon kosher salt (if using salted butter, use only 1/4 teaspoon)**
2 1/2 cups cake flour (10 oz) -- measure carefully
2 1/2 cups all-purpose flour (11.25 oz) -- weigh or stir well and measure carefully
White Icing
1 3/4 cups plus 2 tablespoons (8 oz) powdered sugar
1 1/2 tablespoons heavy cream
2 tablespoons whole milk plus more as needed
1 teaspoon corn syrup
1 teaspoon of good quality vanilla
Chocolate Icing
1 3/4 cups plus 2 tablespoons (8 oz) powdered sugar
3 tablespoons unsweetened cocoa powder
2 1/2 tablespoons heavy cream
2 tablespoons of milk plus more as needed
1 teaspoon of corn syrup
Preheat oven to 375 degrees F. Have ready two large baking sheets lined with parchment paper. Do not grease the pans because spray/butter will make the pans too slippery and the cookies may spread.
With an electric mixer, beat the butter and sugar until smooth and creamy. Add the eggs one at a time, then gradually add the milk, followed by the extracts, salt and baking powder. Stir well to make sure the baking powder is evenly distributed. Stir in cake flour, then add remaining flour. Batter should not be dry, but it should hold its shape when you plop it out on the tray.
Using a VERY generously heaping tablespoon, drop the dough onto the baking sheets spacing 2 inches apart. Bake for 12 minutes or until edges begin to brown. Remove from baking sheets and let cool.
Set a decorating bag uncut and without a tip in a glass and pull sides down to make a little cuff .
To make the white frosting, combine the powdered sugar, cream, milk and corn syrup in a bowl and stir until thick. Stir in corn syrup and vanilla. Add more milk, 1 teaspoon at a time, stirring until batter is thin, but still thick enough to pipe from a bag (a little thicker than glue). Transfer to the decorating bag.
Repeat the same steps with the black frosting recipe, only add the cocoa powder along with the powdered sugar. Transfer to another decorating bag.
When cookies are completely cool, turn them over so that the flat side is up. Snip the tip off the white decorating bag and pipe white icing over half of each cookie. Repeat with the black icing.
Let the cookies sit at room temperature or chill until icing is firm.
About the salt, I used a full teaspoon of Morton kosher (which is a bit coarser than table salt even though it says it measures the same), but some recipes call for 1/2 teaspoon. I don't find the 1 teaspoon of salt to be too much, but if you are sensitive to salt or like baked goods with less, feel free to cut it back to the 1/2 teaspoon. Also, If using regular table salt, it might be a good idea to start with 1/2 teaspoon.The recipe halves and quarters quite well. The cookie part of the recipe (not the icing) is adapted from a recipe in the New York Times.
Recipe by
Cookie Madness
at https://www.cookiemadness.net/2014/02/black-and-white-cookies-inspired-by-zabars/