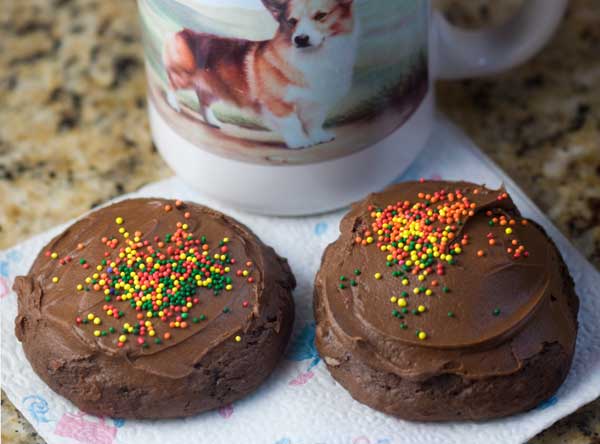 Frosted Cupcake Top Cookies
Author: Cookie Madness
Prep time: 10 mins
Cook time: 15 mins
Total time: 25 mins
Cakey, fat cake mix cookies topped with homemade chocolate frosting.
1 box (15.25 oz) chocolate cake mix (see note)
1 cup sour cream, regular
4 eggs
1 (4 serving size) package instant chocolate pudding mix
1/2 cup vegetable oil
1/2 cup water
1 cup dark chocolate chips
Frosting
1 stick (4 oz) softened butter
3 cups powdered sugar
3/4 cup natural cocoa powder, unsweetened
1 1/2 tablespoons sour cream -- more if desired
4 to 6 tablespoons heavy cream
1 teaspoons of vanilla extract
Milk as needed
Preheat oven to 350 degrees F. and line two to four baking sheets with parchment paper.
In a large bowl, combine cake mix, sour cream, eggs, oil, and water and beat with an electric mixer until smooth. Stir in chocolate chips.
Using a generously heaping tablespoon, drop dough onto baking sheets. Bake two sheets at a time, switching racks halfway through, for about 15 minutes or until cakes appear done (they should spring back like cupcakes).
Let cool for about 5 minutes, then carefully transfer to a wire rack to cool completely.
Prepare frosting. With an electric mixer, beat the butter until soft. Add the sugar and stir until it is moistened by butter. Stir in the cocoa, sour cream and 2 tablespoons of the cream. Mix on low, then increase speed and beat until creamy. Beat in remaining cream and vanilla. Add milk a few teaspoons at a time until you reach the consistency you like. Spread over cookies.
Now this is the hard step. Leave the cookies alone for two hours. Just let them sit on the counter. You can skip this part if necessary, but I really thought they tasted better after they'd sat around for a bit.
I used Betty Crocker Triple Chocolate Cake Mix. Any brand should work, but I'm pointing it out in case you want to use the same brand as I did.

If you have a scale, you can weigh out the ingredients and make a half batch of 12.
Recipe by
Cookie Madness
at https://www.cookiemadness.net/2014/01/31/frosted-cupcake-top-cookies/