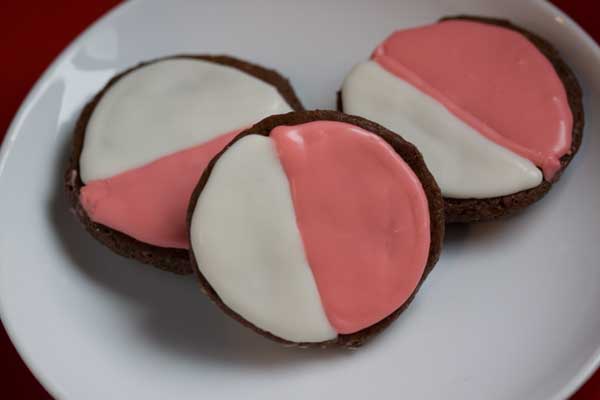 Chocolate Sugar Cookie Pink and Whites
Author: Cookie Madness
Prep time: 20 mins
Cook time: 12 mins
Total time: 32 mins
A chocolate sugar cookie variation of Black and White Cookies topped with pink and white colored icing.
1 1/2 cups all-purpose flour (6.8 oz), weight or stir and spoon into cup
1/2 teaspoon baking soda
Scant 1/2 teaspoon salt
1/2 cup natural unsweetened cocoa powder
10 1/2 tablespoons unsalted butter, softened
1 cup granulated sugar
A large egg at room temperature
3/4 teaspoon vanilla extract
1/3 cup buttermilk
White Icing
1 3/4 cups plus 2 tablespoons (8 oz) powdered sugar
1 1/2 tablespoons cream
1 1/2 tablespoons milk plus more as needed
1 teaspoon corn syrup
1 teaspoon of vanilla extract
Pink Icing
1 3/4 cups plus 2 tablespoons (8 oz) powdered sugar
2 tablespoons cream
1 1/2 tablespoons of milk plus more as needed
1 teaspoon of corn syrup
A few drops of red food coloring paste
Preheat oven to 350 degrees F. Have ready two large baking sheets lined with parchment paper.
Mix together the flour, baking soda, salt and cocoa powder and set aside.
In a large mixing bowl using an electric mixer, beat the butter and sugar until creamy. Add the egg and beat until mixed, then beat in the vanilla. Add the buttermilk and flour mixture alternately until you have a smooth, thick, batter.
Using a generously heaping tablespoon, drop the dough onto the baking sheets spacing 2 inches apart. Bake for 12-14 minutes or until cookies appear set and spring back when touched. Remove from baking sheets and let cool.
Set a decorating bag in a glass and pull sides down to make a little cuff . Do not snip the bottom or add a decorating tip at this point.
To make the white frosting, combine the powdered sugar, cream, milk and corn syrup in a bowl and stir until thick. Add corn syrup and vanilla. Add more milk, 1 teaspoon at a time, until batter is thin but not runny. Transfer to the decorating bag.
Repeat the same steps with the pink frosting recipe, only add the red food coloring Transfer to another decorating bag.
When cookies are completely cool, turn them over so that the flat side is up. Snip the tip off the white decorating bag and pipe filling over half of each cookie. Repeat with the pink icing.
Let cookies sit at room temperature until the icing sets.
Recipe by
Cookie Madness
at https://www.cookiemadness.net/2014/02/06/chocolate-pink-and-whites/