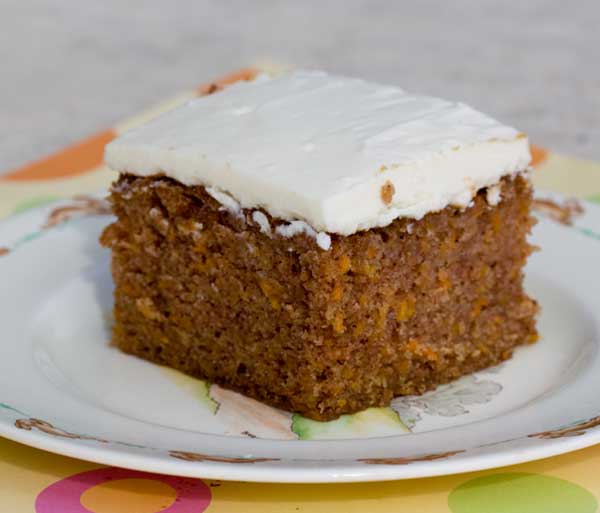 Carrot Cake Baked in an 8x12 Inch Glass Dish
Author: Cookie Madness
Prep time: 10 mins
Cook time: 50 mins
Total time: 1 hour
A thick, dark, carrot cake baked in an 8x12 inch glass pan and topped with cream cheese icing.
2 cups all-purpose flour (9.8 oz)
1 tablespoon baking soda
1 tablespoon ground cinnamon
1/4 scant teaspoon of kosher salt
1 cup vegetable oil
2 cups granulated sugar
1/2 cup buttermilk
3 large eggs
2 tablespoons mayonnaise (or just use another egg)
1 teaspoon vanilla extract
2 cups (10 oz) grated carrots (or shredded and chopped)
Frosting
8 ounces cream cheese, softened
2 ounces butter, softened
1 cup powdered sugar
1 teaspoon of vanilla extract
Preheat the oven to 325 degrees F. Grease an 8 x 12 inch glass baking dish.
In a large bowl, mix together the flour, baking soda, cinnamon and salt.
In a second mixing bowl, mix together the oil, sugar, milk, eggs, mayonnaise and vanilla.
Add the dry ingredients to the wet ingredients and stir until mixed. Stir in the carrots.
Pour the batter into the pan and bake for 45 to 50 minutes or until cake appears set. It will go from orange to a deep brown. Let the cake cool completely, then frost with cream cheese frosting.
To make the frosting, beat the butter and cream cheese until smooth, then stir in the powdered sugar. Beat until creamy, then beat in the vanilla. Spread over cake
The deep yet smaller pan size makes this cake thick. If you only have a 9x13 inch pan, that will work. Just watch the baking time (check at 40 minutes) and expect a thinner cake).
Recipe by
Cookie Madness
at https://www.cookiemadness.net/2014/04/12/carrot-cake-baked-in-an-8x12-inch-glass-dish/