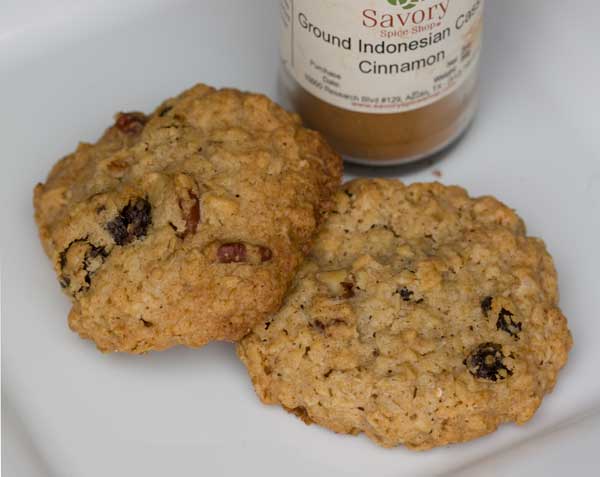 Indonesian Cinnamon Oatmeal Raisin Cookies
Author: Cookie Madness
Prep time: 10 mins
Cook time: 20 mins
Total time: 30 mins
Thick oatmeal raisin cookies with Indonesian cinnamon, raisins and toasted pecans.
2 sticks (8 oz) unsalted butter, softened
1 cup (196 grams) light brown sugar
1 cup organic (196 grams) granulated sugar
1 1/2 teaspoons Indonesian cinnamon
1 teaspoon vanilla extract
2 large eggs
1 1/2 cups (196 grams) all-purpose flour
1/2 teaspoon baking powder
1/2 teaspoon salt -- use 1/8 if using salted butter
3 cups old fashioned rolled oats
2/3 cup toasted and chopped pecans
1 cup raisins
Preheat oven to 350 degrees F.
In a large mixing bowl using an electric mixer, beat the butter until creamy. Add both sugars and continue beating for another two minutes, scraping the side of the bowl. Beat in the cinnamon and the vanilla. Add the eggs one at a time, beating only until mixed.
In a separate bowl, mix together the flour, baking powder and salt. Add to the batter and stir until incorporated. Stir in the oats, pecans and raisins.
Dump the batter out onto a big sheet of foil or wax paper and then press it all together. Divide it into 24 pieces and shape each piece into a round. At this point you can chill the rounds in a freezer bag until ready to bake, or bake them.
To bake, arrange the rounds 2 inches apart on a parchment lined baking sheet. Bake for 18-22 minutes at 350 degrees F. If your oven doesn't heat evenly, turn the pan halfway through. Let the cookies cool for about 3 minutes on the cookie sheet, then remove and let cool completely on a cooling rack.
To toast pecans, lay them on a baking sheet and heat for about 8 minutes. Keep an eye on them to make sure they do not burn. Let cool, then chop.
Recipe by
Cookie Madness
at https://www.cookiemadness.net/2014/04/20/oatmeal-raisin-cookies-2/