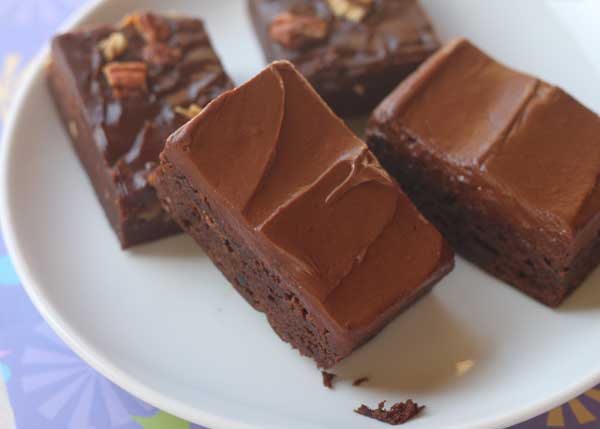 Author: Cookie Madness
Prep time: 20 mins
Cook time: 40 mins
Total time: 1 hour
A perfectly balanced brownie (not too fudgy, not too cakey) with a light textured chocolate buttercream frosting.Also, this recipe halves well. To make a half batch, halve all the ingredients and bake in an 8 inch square pan.
3/4 cup HERSHEY'S Cocoa, I used natural style**
1/2 teaspoon baking soda
2/3 cup unsalted butter, melted and still hot
1/2 cup boiling water
2 cups (14 oz/390 grams) granulated sugar
2 large eggs
1-1/3 cups (6 ounces/170 grams)) all-purpose flour**
1 teaspoon vanilla extract
1/2 teaspoon salt (use 1/4 tsp if using salted butter)
1 cup Hershey's special dark chocolate chips
Frosting
6 tablespoons unsalted or salted butter, softened
2-2/3 cups powdered sugar
1/2 cup HERSHEY'S Cocoa, I used natural style
1/3 cup whole milk (whole makes a slightly creamier, silkier icing)
1 teaspoon vanilla extract
Preheat oven to 350°F. Line a 13x9 inch metal pan with nonstick foil or parchment paper.
Stir together cocoa and baking soda in large bowl. Stir in 1/3 cup of the melted butter, then add boiling water and stir until mixture thickens. Stir in sugar, eggs and remaining 1/3 cup butter.
Add flour, vanilla and salt; blend completely. Stir in chocolate chips. Pour into prepared pan.
Bake 35 to 40 minutes or until brownies begin to pull away from sides of pan. Cool completely in pan on wire rack.
To make the frosting, beat butter in medium bowl. Add powdered sugar and cocoa alternately with milk, scraping sides of the bowl often. Beat in vanilla. Spread across cooled brownies.
This last step is optional, but I recommend chilling the brownies, then lifting from the pan and slicing them while they are very cold.
Natural cocoa powder is more acidic than Dutch or "Dark" cocoa powder, and its acidity works in conjunction with the alkaline baking soda to affect the leavening process. You could get away with using dark or Dutch, but the brownies may or may not rise quite as much or they may just have a different texture.
For the flour, make sure not to use too much. If you weigh out 6 oz you'll be fine. If you don't have a scale and are measuring by volume, be sure to aerate and stir the flour and measure it without packing it into to cup. Too much flour can make brownies dry.
Recipe by
Cookie Madness
at https://www.cookiemadness.net/2014/04/22/frosted-fudge-brownies-ultimate/