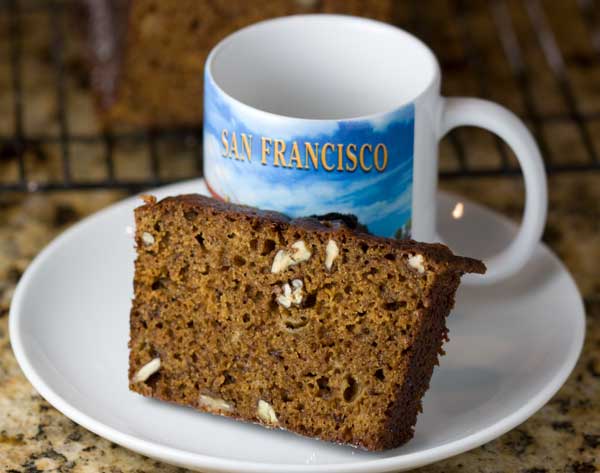 Author: Cookie Madness
Prep time: 10 mins
Cook time: 50 mins
Total time: 1 hour
Cola makes the bread dark and adds sweetness.
1 1/2 cups plus 2 tablespoons (7.5 oz) all-purpose flour
1 teaspoon baking soda
3/4 teaspoon baking powder
1/4 teaspoon salt
1/2 teaspoon cinnamon
1/4 cup vegetable oil
1 1/4 cups (8.75 oz) dark brown sugar
2 large eggs
1 cup mashed or pureed bananas
1/2 cup Coca Cola
1 teaspoon vanilla
1/2 cup toasted and chopped pecans, if desired
Preheat oven to 300 degrees F.
Grease and flour an 8 1/2 by 4 1/2 inch or a 9x5 inch loaf pan. Line with a strip of parchment paper.
In a small bowl, thoroughly stir together the flour, baking soda, baking powder, salt and cinnamon.
In a mixing bowl, stir together the oil, brown sugar, vanilla, eggs and bananas.
Add half the flour mixture and stir until incorporated, then add the Coca Cola and remaining flour mixture and stir until mixed. Stir in the pecans.
Pour into pan. Bake for about 75 minutes (1 hour and 15 minutes).
Recipe by
Cookie Madness
at https://www.cookiemadness.net/2014/04/29/beths-cola-banana-bread/