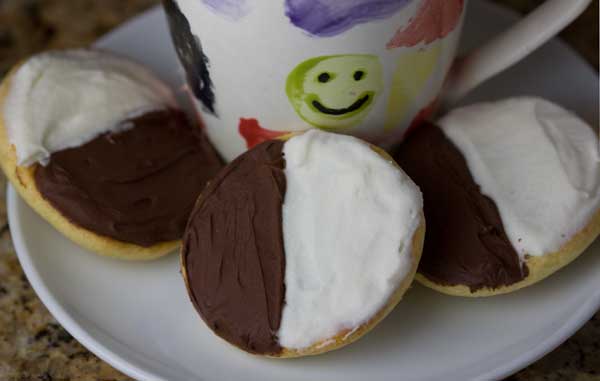 Author: Cookie Madness
Prep time: 30 mins
Cook time: 15 mins
Total time: 45 mins
Not quite the traditional version, these are iced with buttercream instead of fondant.
1 cup (4.5 ) oz) all-purpose flour
1 cup (4 oz) cake flour
3/4 teaspoon baking powder
1/4 teaspoon baking soda
1/4 salt
1 stick (4 oz) unsalted butter, at room temperature
2/3 cup granulated sugar
1 tsp. vanilla extract
1/2 teaspoon McCormick butter & nut extract or an extra 1/2 tsp vanilla
2 large eggs, at room temperature
6 tablespoons buttermilk
Frosting
8 tablespoons butter, softened
3 cups powdered sugar, sifted
1/3 cup room temperature half & half or as needed
1 teaspoon vanilla extract
1/3 cup unsweetened cocoa powder
Preheat the oven to 375°F. Line two baking sheets with parchment paper.
Mix the all-purpose flour, cake flour, baking powder, baking soda and salt together in a bowl.
In a mixing bowl, using an electric mixer, cream the butter and sugar until smooth. Beat in the vanilla and second flavoring (butternut extract or lemon). Beat in the eggs one at a time. By hand, stir in the flour and milk alternately until well mixed.
Drop heaping tablespoons of batter into neat, round mounds, spacing 2 inches apart, on the prepared baking sheets. Bake on the center and lower rack, alternating halfway through, for 12 minutes or until cookies appear set.
Let cool completely on the baking sheets.
To make the frosting, Beat the butter until creamy. Add powdered sugar and beat until well mixed, then add half and half 1 tablespoon at a time until icing is a spreadable consistency. Add the vanilla.
Carefully measure out half the icing.
To one portion of icing, add the cocoa powder and beat until smooth, adding more half and half as needed.
If you'd like a crumblier, denser cookie and/or don't have any buttermilk around, use regular milk, omit the baking soda and use a full teaspoon of baking powder.
Recipe by
Cookie Madness
at https://www.cookiemadness.net/2014/04/27/more-black-and-white-cookies/