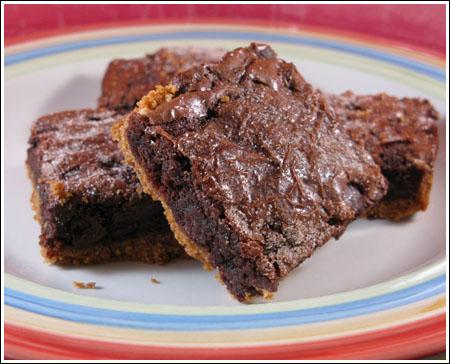 Author: Cookie Madness
Prep time: 10 mins
Cook time: 30 mins
Total time: 40 mins
Fudge brownies with a crunchy crust made with Cinnamon Toast Crunch cereal.
8 cups Cinnamon Toast Crunch Cereal, crushed
1/2 cup melted butter
1 tablespoon corn syrup
1 box (18.4 oz) Pillsbury® Family Size Chocolate Fudge Brownie Mix
2/3 cup vegetable oil
1/4 cup water or cold coffee
2 large eggs
1/2 to 3/4 teaspoon ground cinnamon
1 1/2 cups semisweet chocolate chips
3 tablespoons sugar mixed with 3/4 teaspoon cinnamon
Preheat oven to 350° degrees F. Line a 13x9-inch pan with foil and spray the foil with cooking spray.
Crush the cereal in a food processor in a zipper bag using a rolling pin. Put it in a large bowl and stir in butter and corn syrup until well blended. Press evenly into pan.
Using the same mixing bowl, make brownie mix as directed on box, using oil, water and eggs and adding cinnamon. Stir in half of the chocolate chips. Pour brownie batter over cereal mixture. Sprinkle remaining chocolate chips evenly over batter.
Bake 20 minutes. Sprinkle cinnamon-sugar evenly over brownies and bake 14 to 18 minutes longer or until brownies are set when lightly touched in center. Let cool completely. If desired, cool and chill (this gives you a cleaner cut).
Lift foil from the pan and cut brownies into squares.
Recipe by
Cookie Madness
at https://www.cookiemadness.net/2014/05/cinco-de-mayo-brownies/