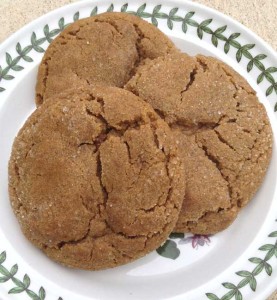 Colossal Ginger Cookies with Nutiva Shortening
Author: Cookie Madness
Prep time: 10 mins
Cook time: 13 mins
Total time: 23 mins
Giant Ginger Cookies that are soft and chewy in the center and have crispy edges.
1 cup granulated sugar (7 oz/196 grams)
1 large egg
1/2 teaspoon vanilla extract
3/4 cup (168 grams) Nutiva shortening**
1/4 cup molasses
2 cups all-purpose flour (9 oz/252 grams)
1/2 teaspoon salt
1/2 teaspoon baking soda
1 teaspoons cinnamon
1/2 teaspoon ground cloves
1/2 teaspoon ground ginger
Crystal sugar for garnish (optional)
In a large bowl, using an electric mixer beat shortening, sugar, egg and vanilla until light. Beat in molasses.
In a separate bowl, mix together flour, salt, baking soda, cinnamon, cloves and ginger.
Stir flour mixture into sugar mixture until thoroughly combined.
Scoop dough and shape into 9 large mounds. Place dough mounds in refrigerator and chill for about 2 hours.
Preheat oven to 350 degrees F. Line two cookie sheets with parchment.
Dip dough mounds in crystal sugar (if using) and arrange 5 mounds on a baking sheet lined with parchment paper.
Bake for 13-15 minutes or until cookies appear set in the middle and are starting to brown around the edges.
Let cool for 2-3 minutes on cookie sheet. Cookies will be large, thick, crispy on the outside and soft on the inside.
If you are making these with regular Crisco, use ¾ cup (144 grams) – Crisco weighs less per T.
Recipe by
Cookie Madness
at https://www.cookiemadness.net/2015/11/17/nutiva-shortening-review/