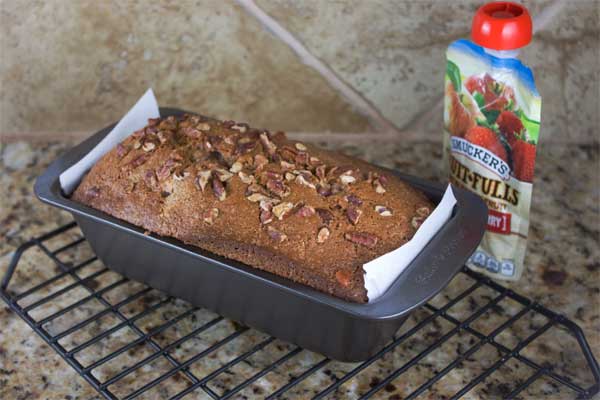 Author: Cookie Madness
Prep time: 10 mins
Cook time: 55 mins
Total time: 1 hour 5 mins
One loaf of strawberry quick bread. This recipe uses applesauce or fruit puree in place of some of the oil, but you can stick with oil if you prefer.
1 1/2 cups (7.5 oz) flour (I used ¾ cup whole wheat and ¾ cup all-purpose)
1/2 teaspoon baking soda
1/2 teaspoon salt
1 1/4 teaspoon cinnamon
1 scant cup granulated sugar
2 large eggs, room temperature
2 tablespoon vegetable oil
1 (4 oz) packet of Apple-Strawberry Fruit Fulls Pure Blended Fruit OR ½ cup oil OR ½ cup unsweetened applesauce
1 teaspoon vanilla extract
2/3 cup toasted chopped pecans
1/3 cup (3 oz) finely chopped strawberries
Preheat oven to 350 degrees. Grease and flour an 8x4 inch loaf pan. You may use a larger loaf pan, but the bread will be shorter and stubbier and won't require as much baking time.
Mix the flour, baking soda, salt, cinnamon and sugar together in a large mixing bowl.
Make a well in the center and add eggs, oil, fruit puree, and vanilla.
Stir everything together until blended, then stir in half of the pecans and the strawberries.
Scrape (it should be thick) into loaf pan and sprinkle remaining pecans over the top.
Bake for about 45 to 55 minutes or until set. Let cool in the pan for about 15 minutes, then turn from pan and let cool completely.
Recipe by
Cookie Madness
at https://www.cookiemadness.net/2014/06/08/strawberry-bread-recipe/