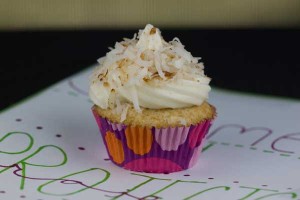 Frosted Coconut Cupcakes Made With Coconut Spread
Author: Cookie Madness
Prep time: 10 mins
Cook time: 25 mins
Total time: 35 mins
Coconut Cupcakes Made with Earth Balance Coconut Spread. If you don't have the coconut spread, use unsalted butter and throw in a little coconut extract.
1 1/2 cups cake flour or White Lily flour (170 grams)
1 1/2 teaspoons baking powder
1/2 teaspoon salt (I used Morton Kosher -- not as coarse as some kosher, but less fine than table)
4 ounces/114 grams Smart Balance Coconut Spread, cold right out of the tub
3/4 cup (145 grams) granulated sugar
2 large eggs
2 teaspoons vanilla extract
1/2 cup whole milk, at room temperature
1/3 cup shredded, sweetened coconut
Butter Cream Frosting
1 stick (4 oz) unsalted butter, softened
1 pinch of salt
1/2 tsp vanilla
2 cups powdered (confectioners) sugar
Whole Milk as needed
Preheat the oven to 350º F. Line 12 to 14 muffin cups with paper liners (I used 12 )
In a small bowl, mix together the cake flour, baking powder and salt.
Using an electric mixer, beat the Earth Balance and sugar at medium high speed until light and creamy. Add room temperature eggs, one at a time, beating well after each addition. Beat in the vanilla.
With the mixer on low speed, add the flour mixture in three additions, alternating with the milk– flour, milk, flour, milk, flour. Scrape the bowl and beat for about 30 seconds or until batter is smooth and velvety. Stir in the coconut.
Divide batter evenly among muffin cups 12 to 14 muffin cups. Bake for 25 minutes or until toothpick inserted in center comes out clean. Cool in pan 5 minutes. Remove to wire rack. Cool completely before frosting.
Recipe by
Cookie Madness
at https://www.cookiemadness.net/2014/06/frosted-coconut-cupcakes-made-with-coconut-spread/