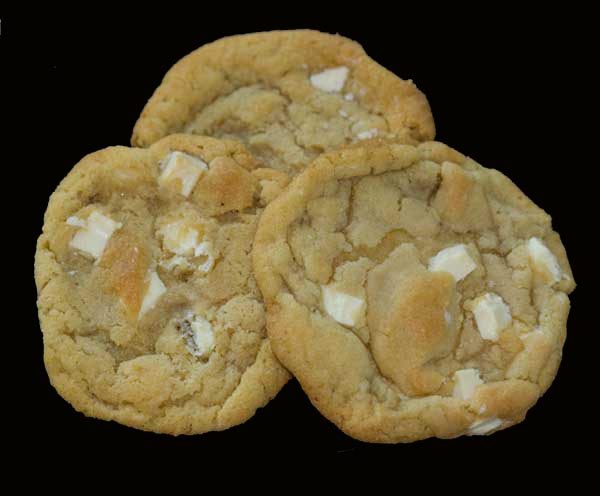 White Chocolate Chunk Lemon Pudding Cookies
Author: Cookie Madness
Prep time: 10 mins
Cook time: 12 mins
Total time: 22 mins
Chewy lemon cookies made with lemon instant pudding mix and white chocolate chunks.
2 1/3 cups to 2 1/2 cups all-purpose flour (12 ounces by weight)**
1 tablespoon baking soda (that's right – 1 tablespoon)
1/2 teaspoon salt
1 stick (4 oz) unsalted butter, softened
1/2 cup (3.4 oz) butter flavored non-hydrogenated shortening or regular Crisco shortening
2/3 cup light brown sugar, tightly packed
3/4 cup granulated sugar
1 box instant lemon pudding (3.4 oz)
2 large eggs
1 teaspoon lemon oil (Boyajian) or use 2-3 teaspoons of fresh lemon zest (or more)
1/2 teaspoon vanilla extract
6 to 8 oz of white baking chocolate, cut into small chunks
Mix together the flour, baking soda and salt. Set aside.
In a mixing bowl, using an electric mixer, beat the butter and shortening until creamy. Beat in both sugars, then add pudding mix and beat until creamy. Add eggs one at a time, beating just until mixed.
Gradually add the flour mixture, stirring by hand until mixed. If you're using a stand mixer with paddle, you can mix with the paddle on low speed. Personally, like to use a hand-held mixer for the creaming process, then stir the flour in by hand. I'm always a little paranoid that the friction from a hand-held mixer might overdevelop the gluten.
Stir in the white chocolate chunks.
Using a generous tablespoon, scoop up about 34 rounds of dough and arrange them on a foil lined baking sheet. Chill dough rounds for several hours, then put in a zipper bag and bake as needed at 375 degrees for about 10 minutes or bake at 350 for 12-15 minutes.
You can also bake right after mixing the dough, in which case you just scoop up the dough by tablespoons and bake on parchment lined baking sheets at 375 for about 10 minutes.
I recommend scooping the dough into rounds and chilling them, as they will have a better shape as they bake.
Flour is tricky because 1 cup can have a different weight. I weighed out 12 ounces. If you don't have a scale, stir your flour and aerate it, then carefully scoop and sweep 2 1/2 cups. Also, I was out of my usual Gold Medal unbleached and used Gold Medal bleached, which I sometimes use for cakes and quick breads. The bleached flour probably also contributed to the cookies' thickness, so if you use unbleached you may get a thinner cookie.
Recipe by
Cookie Madness
at https://www.cookiemadness.net/2014/06/white-chocolate-chunk-lemon-pudding-cookies/