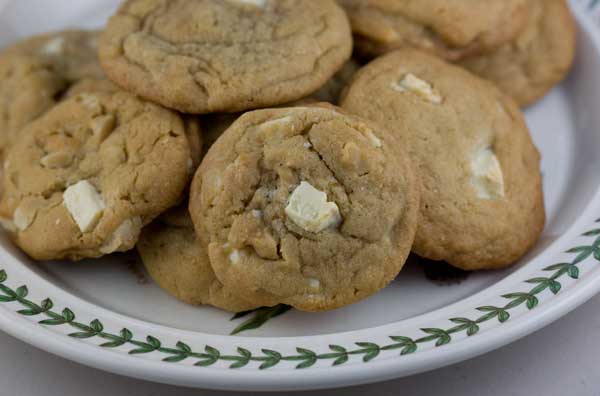 Edward's Favorite Chocolate Macadamia Nut Cookies
Author: Cookie Madness
Prep time: 10 mins
Cook time: 15 mins
Total time: 25 mins
I used to call these White Chocolate Macadamia Nut Cookies, but I made them for a friend named Edward and he now requests them all the time! The new name is in honor of Edward.
1 stick unsalted butter, cool room temperature (4 oz/114 grams)
1/2 cup regular vegetable shortening (3.4 oz/94 grams grams) or use another 1 stick butter**
1/2 cup granulated sugar (98 grams)
3/4 cup light brown sugar (147 grams)
2 large eggs
1 1/2 teaspoons vanilla
1/4 teaspoon almond extract
2 1/2 cups all purpose flour (11.8 oz/330 grams)**
1 scant teaspoon salt (cut in half if using salted butter)
1 teaspoon baking soda
3/4 cup salted or unsalted, dry roasted macadamia nuts, chopped
6 to 8 oz white chocolate, chopped into very small chunks
Beat butter, shortening and both sugars with an electric mixer until creamy.
Add eggs and extracts and beat for about 30 seconds. Scrape sides of bowl and beat in salt and baking soda. Add flour and stir until it is almost mixed in, then stir in macadamia nuts and white chocolate.
Drop heaping tablespoons of dough on a foil lined plate or baking sheet and chill for about an hour.
Preheat oven to 350 degrees F (176 C). Line a couple of cookie sheets with parchment paper or regular foil.
Arrange dough pieces 2 1/2 inches apart on baking sheets. Bake for 12-15 minute or until edges are brown and cookies are slightly golden. Cool on cookie sheets for about 5 minutes, then transfer to wire racks.
If you don't have a scale, stir or sift the flour well before using. For the shortening, I've had good luck using Nutiva non-hydrogenated, but you can use Crisco or whatever type you prefer. I like to use a little less egg, but since I don't usually have medium size eggs, I use the equivalent. I crack two eggs into a cup, beat them with a fork, and weigh out 90 grams.
Recipe by
Cookie Madness
at https://www.cookiemadness.net/2014/06/27/new-white-chocolate-macadamia-nut-cookie-taste-off/