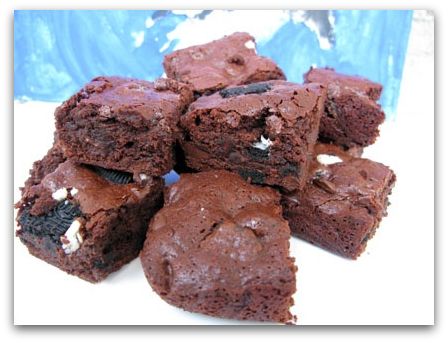 Author: Cookie Madness
Prep time: 10 mins
Cook time: 35 mins
Total time: 45 mins
Half batch version of Outrageous Brownies with Oreos.
8 ounces unsalted butter (230 grams)
8 ounces plus 4 ounces semisweet chocolate chips (12 oz total) (336 grams)
3 ounces unsweetened chocolate (84 grams)
3 large eggs
1 tablespoon pure vanilla extract (15 ml)
1 cup plus 2 tablespoons granulated sugar (220 grams)
1/2 cup plus 2 tablespoon all-purpose flour (80 grams)
1 1/2 teaspoons baking powder (7 ml)
1/2 teaspoon salt (2.ml)
2 teaspoons instant espresso powder (10 ml)
8 Oreo cookies, broken up
Preheat the oven to 350º F (180 C). Line a 13x9 inch metal pan with nonstick foil or parchment.
Melt the butter, 8 ounces (1 1/3 cup) semi-sweet chocolate chips and the unsweetened chocolate in a bowl over simmering water. Allow to cool slightly. You may also do this in the microwave.
Stir (do not beat) eggs, vanilla, and sugar together in a large mixing bowl. Stir the warm chocolate mixture into the egg mixture and let cool to room temperature.
Stir the flour, baking powder, salt and espresso powder together in another bowl then add to the cooled chocolate mixture. Stir in the Oreos and remaining chocolate chips.
Bake for 20 minutes, then rap the baking sheet against the oven shelf to force the air to escape from between the pan and the brownie dough. Bake for about 10 minutes more, or until a toothpick comes out clean. Do not overbake!
Let cool, then chill brownies. Lift from pan and cut into squares.
Note: Recipe works well in an 8 inch square pan too. Just use half of all ingredients (1 ½ Tablespoons of beaten egg for the ½ egg). You can also use these measurements for the 8 inch pan for slightly thicker brownies.

• 5.3 ounces (10 tablespoons and 2 teaspoons) unsalted butter
• 5.3 ounces semisweet or dark chocolate
• 2 ounces unsweetened chocolate (56 grams), chopped
• 2 extra-large eggs
• 1 ½ teaspoons vanilla extract
• 3/4 cup granulated sugar (145 grams)
• 1 teaspoon instant espresso powder
• 1/3 cup plus 4 teaspoons flour (60 grams)
• 1 teaspoon baking powder
• 1/4 teaspoon salt plus a pinch
• 1/2 cup dark chocolate chips
• Mini Oreos as needed.

Bake time is 28 to 30 minutes for the 8 inch pan. Brownies will seem crumbly at first, so chill them before cutting into squares.
Recipe by
Cookie Madness
at https://www.cookiemadness.net/2008/09/outrageous-oreo-brownies/