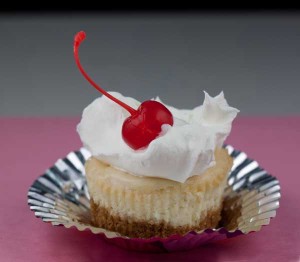 Mini Key Lime Flavored Cheesecakes
Author: Cookie Madness
Prep time: 10 mins
Cook time: 25 mins
Total time: 35 mins
Mini Key lime flavored cheesecakes topped with whipped cream and a cherry.
Crust:
1 1/2 cup graham cracker crumbs (from about 23 squares)
1/4 cup granulated sugar
1/3 cup regular salted butter, melted
Filling:
1 (8 oz) package cream cheese, softened
1/2 cup of condensed milk (1/3 of a 14 oz can)
1/3 cup granulated sugar
1 teaspoon lime zest
1/4 cup Key lime juice
1/4 teaspoon vanilla
1 large egg
1/2 tablespoon flour
Sweetened whipped cream
Stemmed cherries or lime slices
Preheat oven to 350 degrees. Line 12 cupcake cups with paper liners.
Mix together crumbs, sugar and butter and divide evenly among cupcake liners. Press down to form crusts.
Prepare Filling: Beat the cream cheese, condensed milk and sugar until smooth. Beat in lime zest, lime juice and vanilla. Stir in the egg. When egg is fully blended, stir in the flour.
Divide the batter evenly among the mini pie crusts and bake for 25 minutes or until the cakes appear set (if they crack, it's okay). Let cool at room temperature, then chill for several hours or until very cold.
Top with whipped cream and a stemmed cherry or slice of lime.
For extra lime flavor, add about 1/4 teaspoon of Key lime extract or a tiny bit of lime oil.
Recipe by
Cookie Madness
at https://www.cookiemadness.net/2014/07/17/mini-key-lime-flavored-cheesecakes/