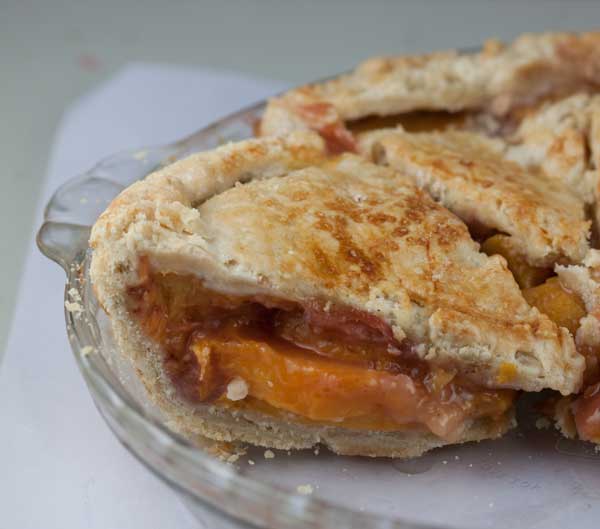 Author: Cookie Madness
Prep time: 30 mins
Cook time: 60 mins
Total time: 1 hour 30 mins
Peach pie made with rendered peach juice for awesome peach flavor!
Crust:
2 ½ cups all-purpose flour
1 teaspoon salt
4 tablespoons shortening, regular or butter flavored
10 tablespoons very cold butter, chopped into pieces
6 to 10 tablespoons ice water**
Filling:
6 large, ripe peaches or enough to make 5 cups (about 1 1/2 pounds)
1/2 cup granulated sugar
1/4 cup light brown sugar
3 tablespoons cornstarch
3/4 teaspoon cinnamon
Pinch of fresh nutmeg
1 tablespoon fresh lemon juice
1 tablespoon unsalted butter
In the bowl of a food processor, pulse flour and salt to mix. Scatter chunks of shortening and butter around flour and pulse just until mixture is crumbly; pour into a large bowl.
Add water 2 tablespoons at a time and stir with a large scraper until mixture starts to hold together. Shape into a disc, wrap tightly in plastic and chill for an hour or until ready to use. When ready to use, divide in half and roll out dough to fit a 9 inch deep dish pie dish. Line the dish and put it in the freezer while you make the filling. Keep the other part of the pie dough chilled.
To make the filling, peel the peaches by dipping in boiling water for 30 seconds, plunging into ice cold water, then stripping off peel. You can also skip this step and leave the peels on.
Cut and pit peaches so that you have about 5 cups. Put them in a large bowl and toss with both sugars. Let sit at room temperature for one hour, then drain the juice into a measuring cup. You should have at least 1 cup, but if you have less than that add enough water to make 1 cup.
In a saucepan, mix together the cornstarch, cinnamon, nutmeg and salt. Add the peach juice and turn heat to medium. Stir over medium until mixture becomes a thick, translucent, gel. It will not be very pretty at this point! If it's really stiff, add water to it 1 teaspoon at a time just so it less cohesive and easier to blend. Add the butter and lemon juice to the hot gel and stir well, then fold the gel mixture into the peaches and mix as well as you can.
Remove the lined pie dish from the freezer and dump in the peaches.
Roll out the second portion of pie dough and place it over the peaches, sealing the edges and crimping. Cut a few slashes in the top to allow steam to escape. Brush with an egg wash if desired.
Lay a pie shield if you have one OR a large circle of foil with the center cut out over the pie so that edges are shielded and center is exposed. Bake at 400 degrees F. for 45 to 50 minutes. Let cool completely.
Recipe by
Cookie Madness
at https://www.cookiemadness.net/2014/09/10/double-crust-peach-pie/